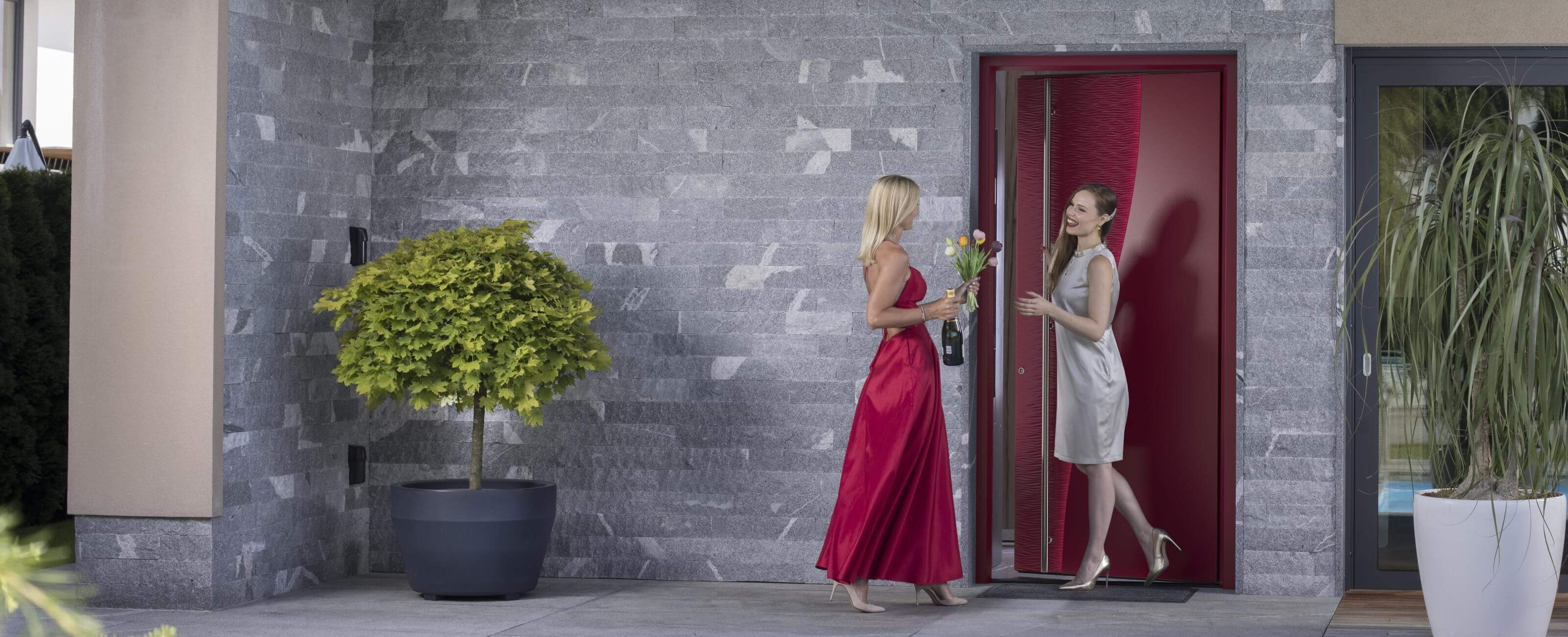 A WIDE ARRAY OF COLOUR CHOICES FOR YOUR FRONT DOOR
Front door colours
Colour your dream door depending on your chosen material with the tones on the RAL scale, wood decors, glazes or oils. A wide array of colour choices for your front door.
Let the colour of your dream door inspire you
The choice of front door colour depends mainly on the style of your home, your character and your chosen façade. Vibrant, colourful façades usually call for calmer door tones in a single or double colourway, while calmer tones of façade offer greater freedom in choosing colourful or patterned doors. As your door will be with you for quite some time to come, it may stand you in good stead to opt for a more classic colour such as white, steel blue, grey or brown, or even a natural wood tone to suit your taste. We have prepared five wonderful ambiences with different door colours for you. We hope that they will be a source of inspiration and insight to you in choosing your own door colour.
White door
Neutral white doors are always a popular staple choice. They suit a wide range of architectural styles, while their unobtrusiveness allows them to play with different accessories, lighting and ornaments. A grey façade with side lighting creates ideal conditions for the installation of snow-white doors. This combination reflects the prestige and uniqueness of your home from afar. It is also a perfect complement to framed stained glass and marble steps.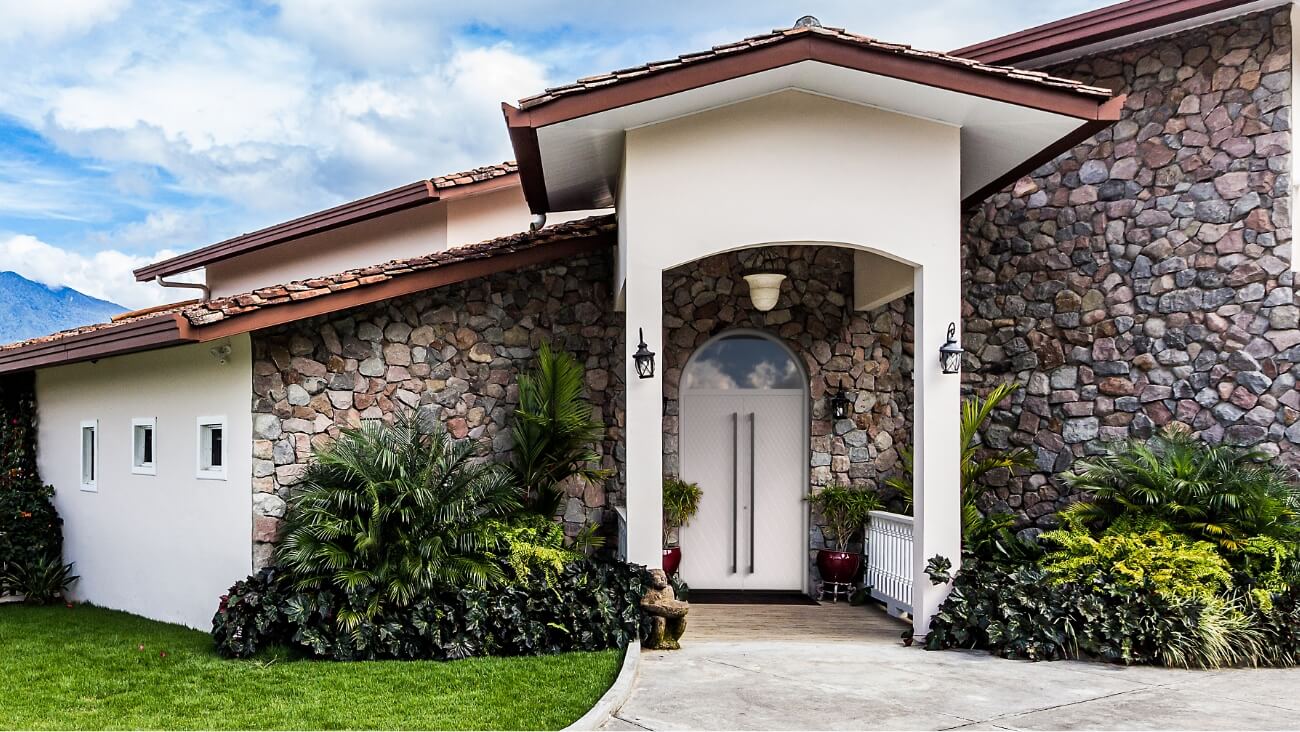 Blue door
Blue doors are still a rare choice in this country, as they can appear very daring and therefore unique in certain shades, although they are very popular abroad. Blue is associated with serenity and intelligence. A shade of blue can have a very tranquil air to it and complements the façade in a discreet way.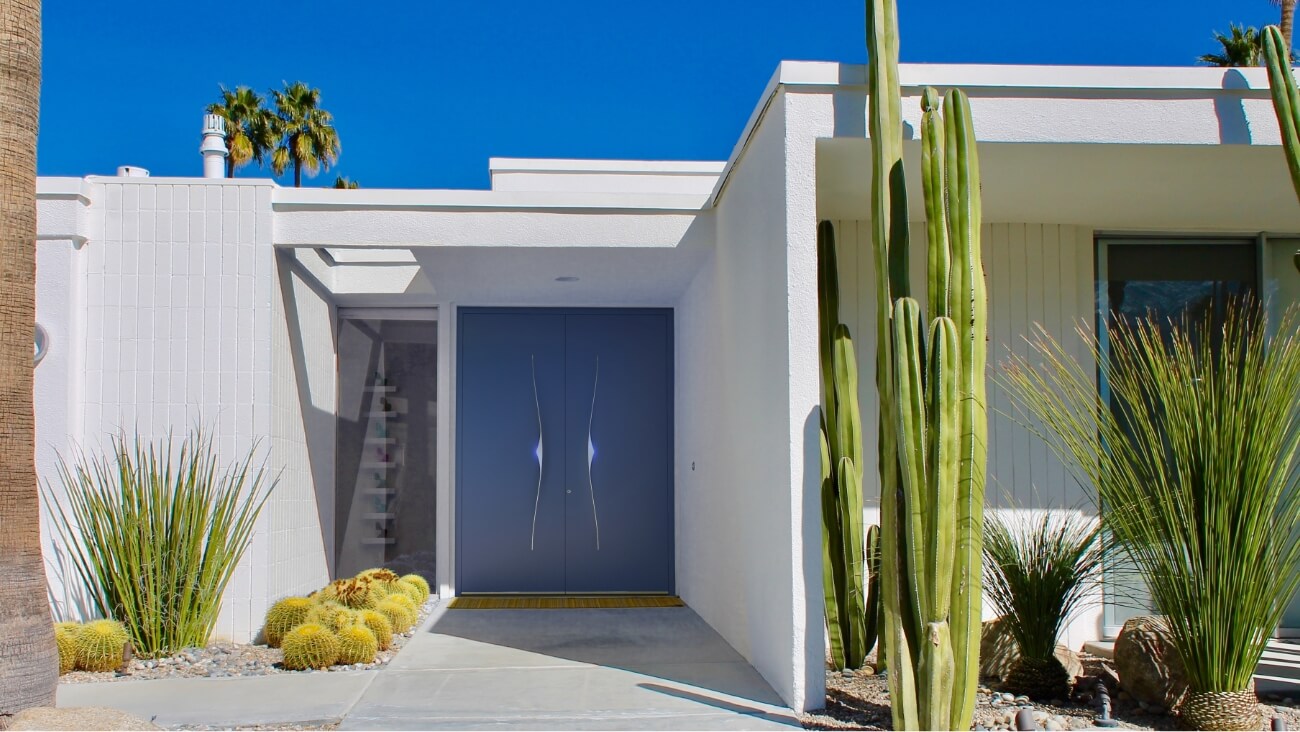 Grey door (RAL 7016)
Anthracite-coloured front doors (RAL 7016) are always on trend, so you do not have to worry about your entrance ever looking old. As it is a modern variant with a metallic touch, you should think about equipping this type of entrance with modern technology, such as the Pirnar OneTouch pull bar door handle. The door handle automatically pops out from the surface of the door leaf when the door is unlocked by the owner's fingerprint, and then also automatically retracts back into the door leaf.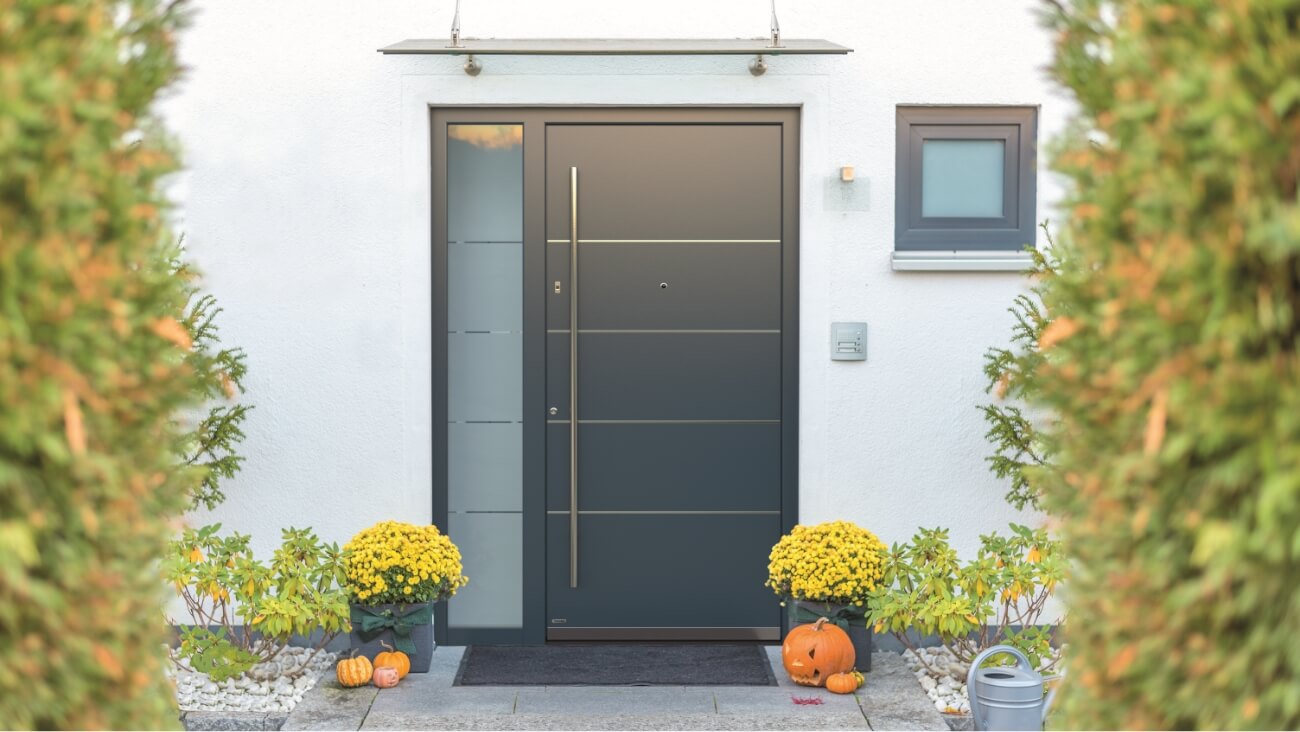 Green door
Are you thinking about a green door? Many people associate it with nature and nature is our retreat. No wonder it looks calming and particularly elegant in darker tones. Combined with a light marble façade, it stands out and with additional decorative elements, such as discreet greenery on both sides of the door, it beautifully emphasises the aesthetics of the entire entrance area of your home.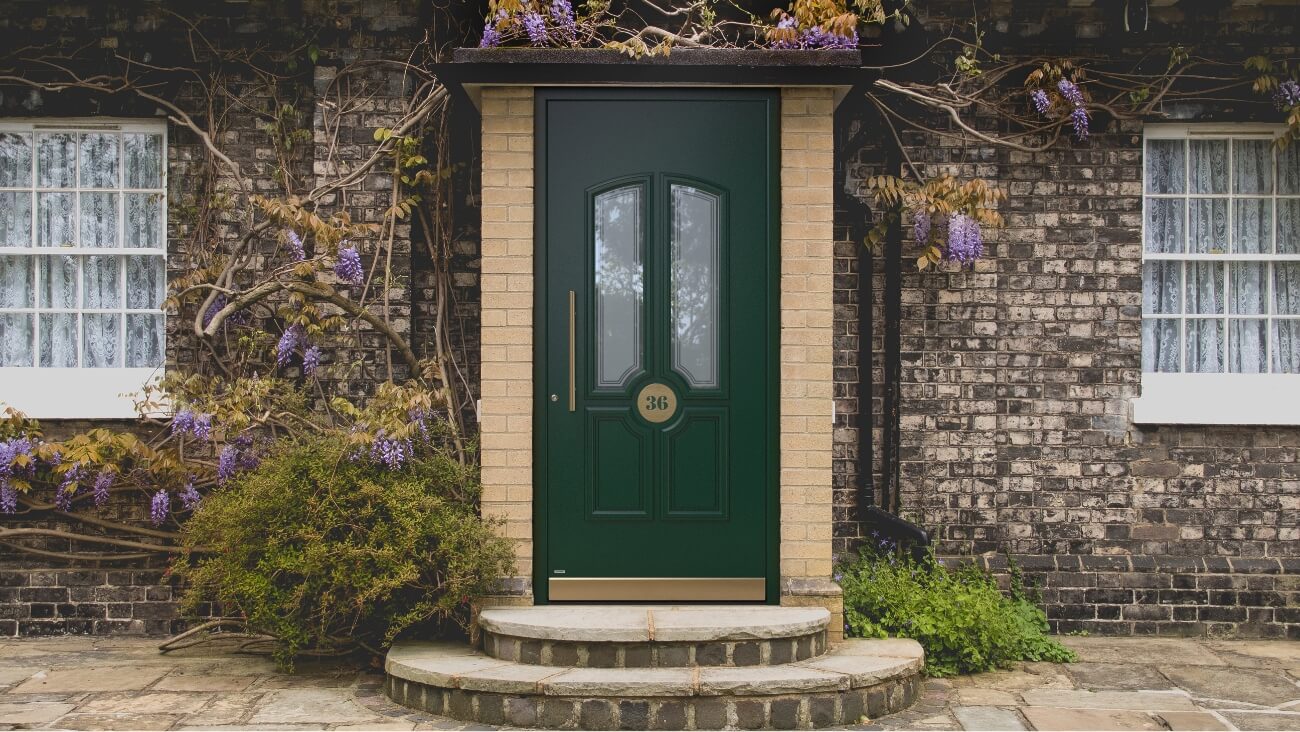 Doors in the colour of wood decor
When we talk about trends, we cannot ignore entrance doors made of imitation wood. With the oak, cherry and olive wood finishes, you can give your entrance a natural look while retaining all the advantages of high-quality aluminium construction.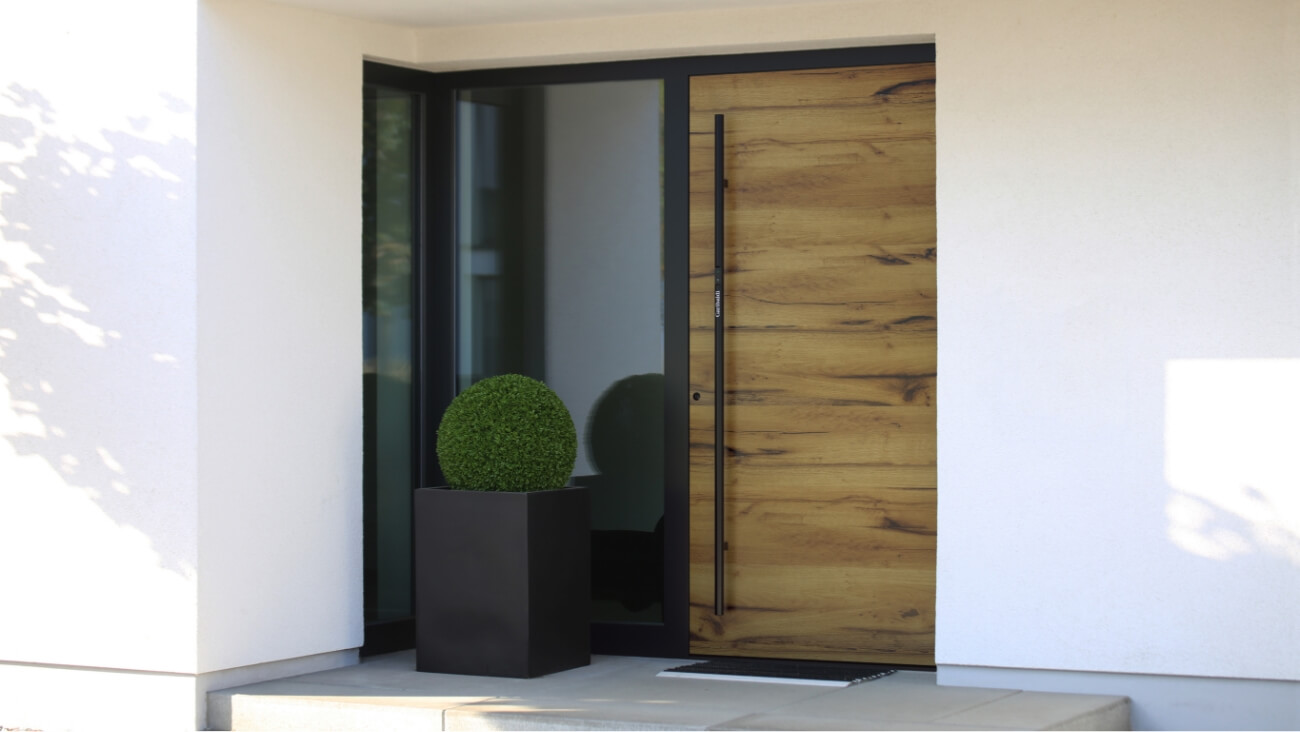 Various other colours for front doors
Besides most popular mentioned colours for external front doors, there are many other colour variations visitors on Pirnar.co.uk can choose from in our Door configurator.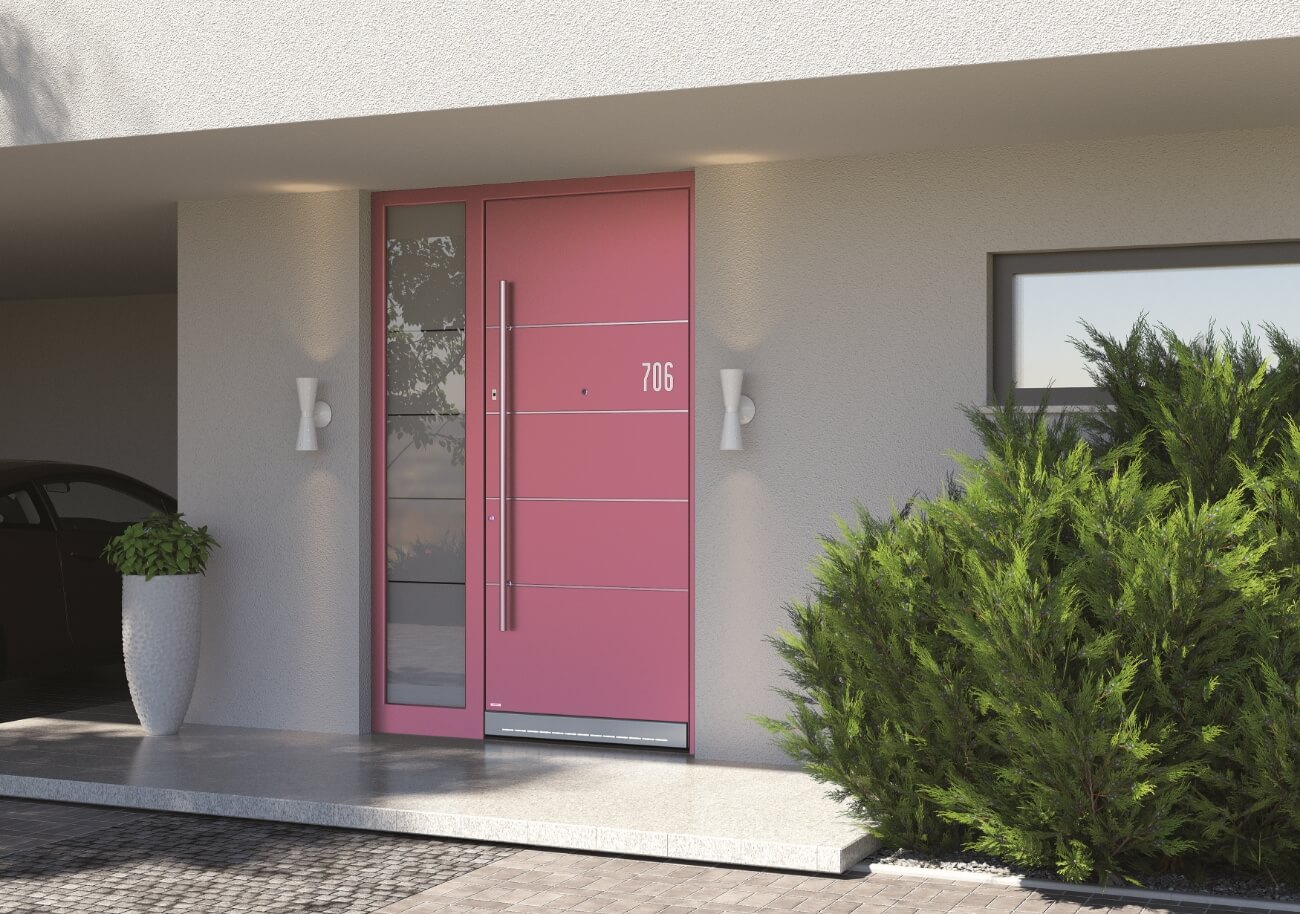 With aluminium, you can choose from countless colours
Aluminium is a versatile material that allows for a wide range of finishes, including doors in countless combinations. You can choose between matte or glossy tones on the RAL scale, textured and metallic shades, or wood and decorative finishes. The use of wood decors in imitation oak, cherry and olive emulates a particularly warm feeling when you come home. Most aluminium doors are finished with a powder coating that ensures long life and requires minimal maintenance. The uniformity of the coating ensures a smooth surface without lumps or drips, as well as long-lasting durability and quality regardless of unpredictable weather conditions.
Give your wooden door a finish with glazes or oils
With wood, there is usually less colour choice as most people swear by a natural look. If you are willing to invest some time in caring for wood, you will be rewarded with its exceptional beauty, warmth and softness.
Glaze coatings
Glaze coatings are resistant to non-abrasive cleaners and chemicals and are easy to renovate. Despite the coating, it gradually releases the moisture it binds back into the environment. This means that the coatings do not crack or peel despite large temperature fluctuations. They offer more protection for doors, are UV resistant, but also mask the nature of the wood more.
Oil coatings
If you opt for the natural look of wood characterised by a grey patina, you can use an oil finish instead of a glaze coating. Oil finishes do not alter the beneficial properties of wood, since they breathe, expand and shrink with the wood. They penetrate deep into the wood, preventing moisture from getting in. The addition of natural pigments significantly increases the resistance to UV rays.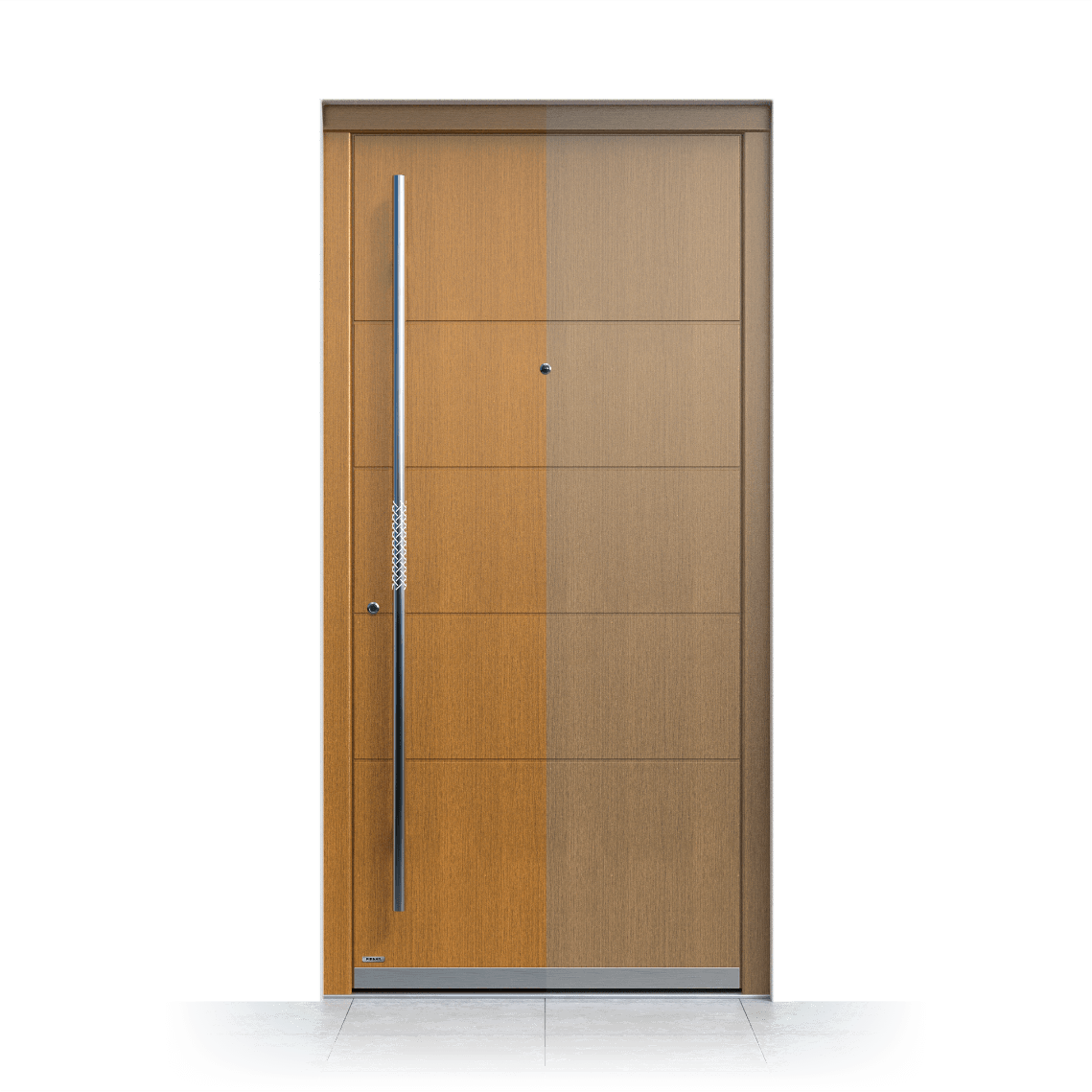 Tips for choosing the most beautiful colour shade for your new entrance
Choose the shade of door colour in appropriate lighting conditions

You may be all excited when you visit a paint shop because you want to choose a shade that perfectly matches your colourful entrance. But you have forgotten that neon lights do not give a realistic picture. Or you have only seen it on your computer or smartphone screen and have not been able to see it in the flesh.

This can lead to nasty surprises when the colour looks completely different in daylight. So remember to always pay special attention to the light in question. The actual colour shades of the entrance doors can be viewed in a Pirnar Showroom to get a better idea.

Consider the colour palette of your home's exterior

When choosing furniture and colour tones for the interior of the home, it goes without saying that we keep the space as a whole in mind. Our zeal in selecting a complete colour palette often evaporates when it comes to the exterior elements of the house. Determining the colour scheme is not only important for the interior, but also for choosing the colourful front door. Before deciding on the best shade for the exterior door, it makes sense to think about the façade, windows, shutters and any outdoor furniture at the entrance.

Consider the appearance of your surroundings

Even if you are audacious and adamant by nature, you should consider the appearance of your surroundings when choosing your front door and keep the street as a whole in mind. Even if the neighbourhood is colour-coordinated, you can opt for a bolder option with careful consideration. Comparing the front door colours of your nearest neighbours is a great way to find out which front door colours really appeal to you. We recommend a personal visit to a Pirnar Showroom, where the experts will be happy to advise you on your choice.

Choose a shade that arouses strong emotions in you

When you come home from work after a hard day, the appearance of your entrance should evoke a feeling of cosiness, love and comfort. When you stand in front of the entrance to your home, your choice of colour should enchant visitors and arouse feelings of pride in you.