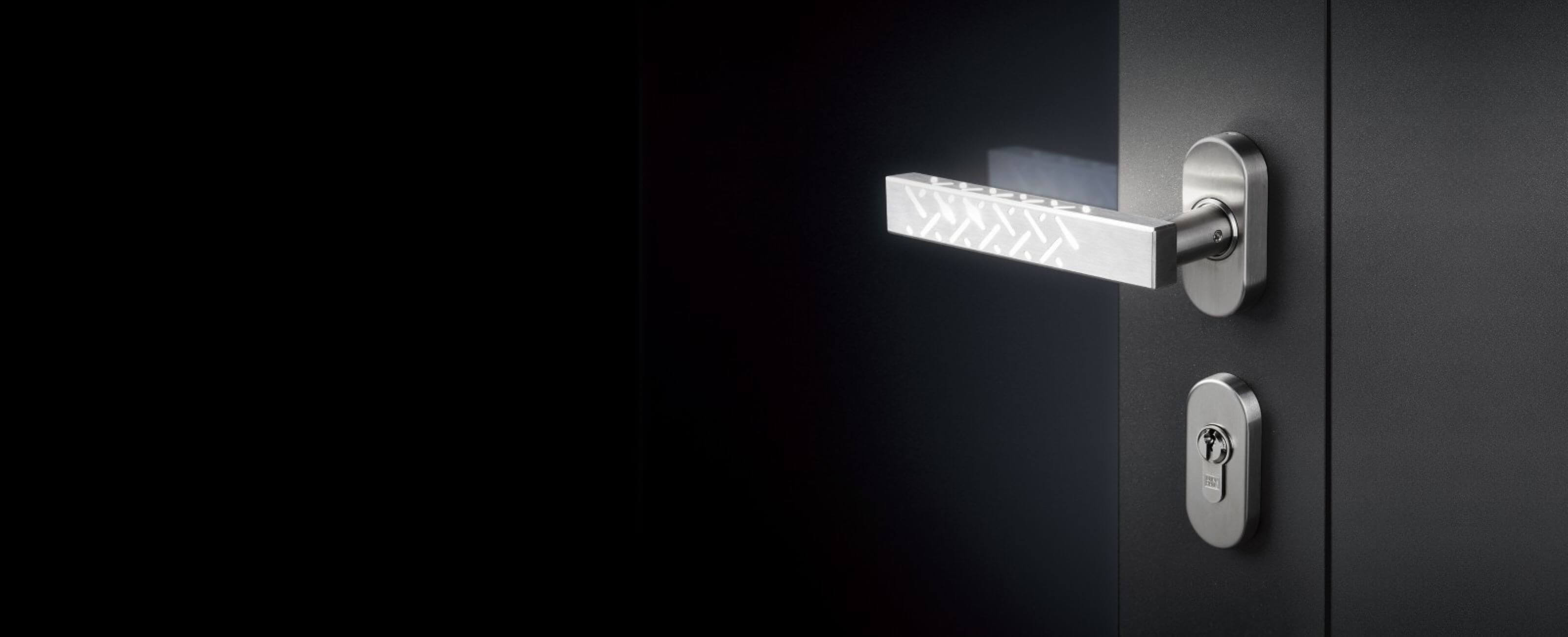 ELEGANT AND SMART ACCESSORIES FOR THE MOST BEAUTIFUL ENTRANCES
Front door accessories
Exciting accessories to give your dream front door the perfect look
Stunning selection of unique accessories
It's all in the details and unique accessories make for an exceptional, unrepeatable and one-of-a-kind entrance door. At Pirnar, we place great emphasis on development because we want to offer you the safest and most comfortable living experience possible. Upgrade your entrance with fingerprint scanners and other state-of-the-art security mechanisms. You can also opt for special lighting or accessories such as side lighting and frosted glass or door handles with engraved lettering.
Take a look at Pirnar's multi-award-winning accessories
Accessories are a highlight of any entrance and at Pirnar we are proud of our internationally award-winning accessories that are the result of our own production and countless hours of precise handiwork. Take a look at them and choose your unique piece.
ONETOUCH

ONETOUCH

The Pirnar OneTouch is the first and only exterior door in the world with an automatic retractable handle. When the hidden fingerprint scanner recognises its owner, the handle pops out elegantly and automatically, illuminating its surroundings and the door is unlocked. A few seconds after closing, the door automatically transforms back into a smooth surface without a pull bar, preventing uninvited guests from tampering with the entrance.

GRANDE

GRANDE

Selected Pirnar doors are also produced in the larger-than-average Grande size, which gives the impression of grandeur with its exceptional height and width – practically without size restrictions, made possible with the versatility of aluminium. The largest entrance door to date was built in the United Arab Emirates – a magnificent 7.4 m high aluminium entrance adorns a villa in Dubai.

NERO EDITION

NERO EDITION

The Nero Edition collection consists of sophisticated accessories for front doors in black, a colour that expresses confidence, maturity and authority while being dramatic, elegant and audacious. Bars, handles, protective trims and locks have been additionally refined by Pirnar's master craftsmen with a sophisticated application of black paint, giving them a touch of timelessness.

LABELUX

LABELUX

The beautiful LabeLux handle allows for personalisation as it features any inscription in a pattern of light – your family name, perhaps a word or thought that means a lot to you. LabeLux is a unique invitation into the intimacy and shelter of your home, breathing a touch of elegance, playfulness and intelligence to the door.