STYLISH, TIMELESS, HIGH QUALITY
Anthracite grey front doors
An anthracite grey front door combines classic elegance with an air of confident understatement. The colour doesn't stand out but creates a harmonising effect that fits perfectly with various architectural designs. Also, anthracite grey is aesthetically pleasing and tasteful, making the colour a perfect fit for our high-quality Pirnar front doors.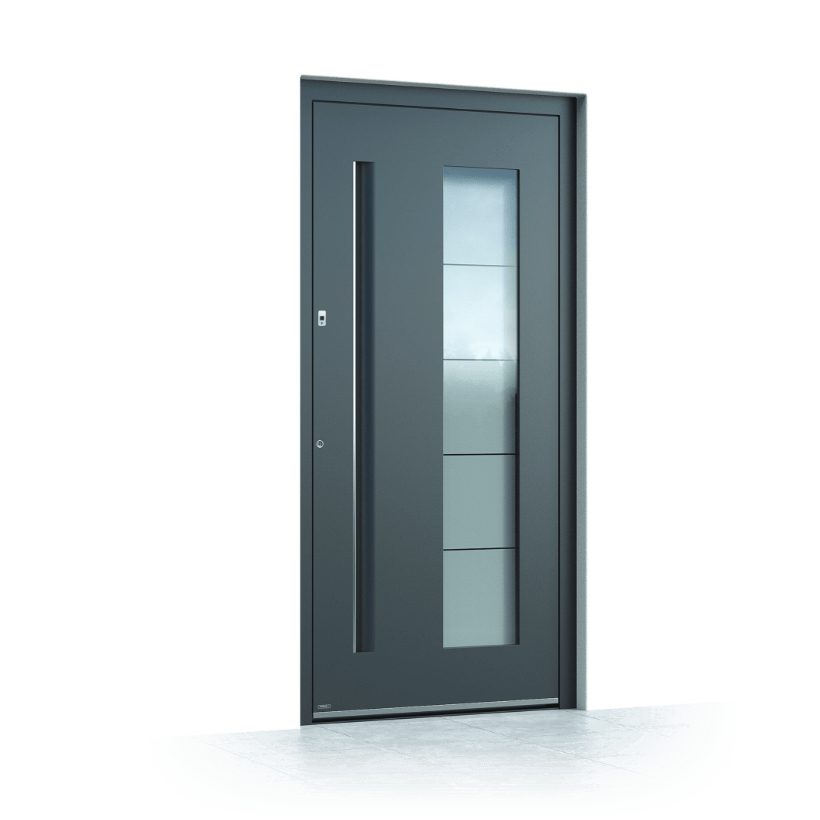 Anthracite grey as a colour – RAL 7016
Colloquially, the name "anthracite grey" describes a colour nuance between black and dark grey. Everybody has an idea of what this colour looks like – but that's not enough for identifying the precise shade of grey for your newly built or renovated home. The RAL colour chart helps in that regard. It matches common colours with a unique four-digit number on a comprehensive scale. Anthracite grey is RAL 7016.
You can pick anthracite grey – RAL 7016 – in either a matte or a metallic variant. While the metallic effect creates a shimmering effect from the sun, the matte variant looks more reserved, understated, and elegant.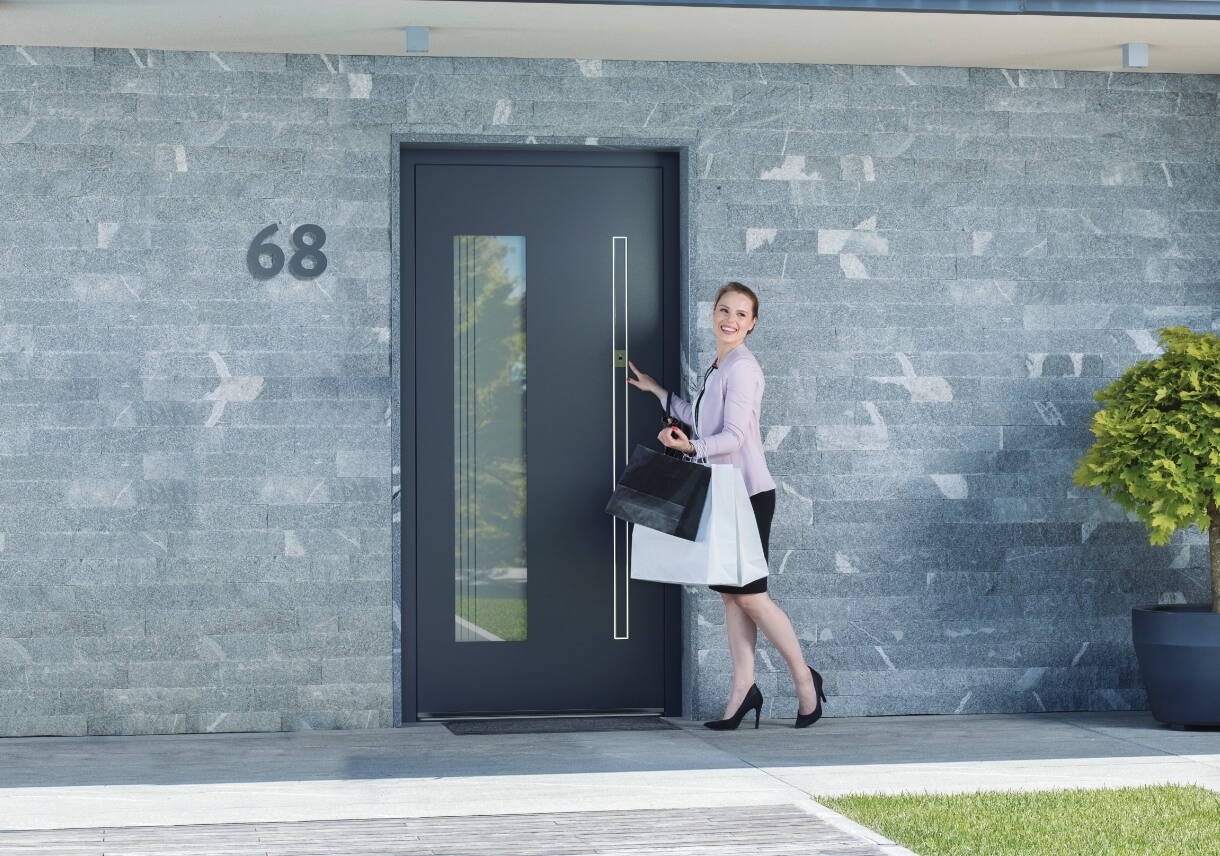 Anthracite front doors – variants and style options
Anthracite coloured doors are an excellent fit for various design concepts. Pirnar doors look wonderful in romantic cottage homes with curved architecture as well as in modern city houses. Anthracite grey is especially versatile and goes well with all styles, such as: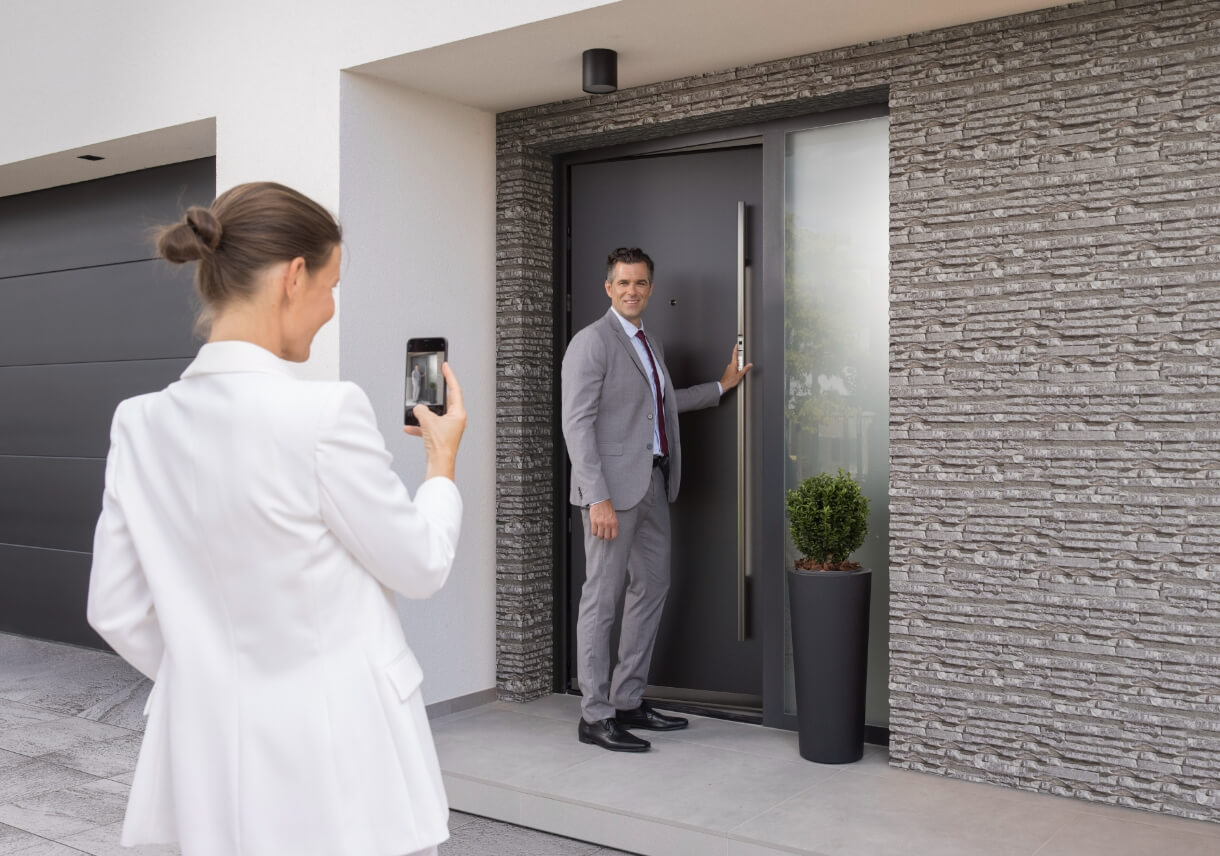 contemporary designs with a lot of glass and aluminium
cottage styles or urban villas and country manors
standard suburb homes with a clean white or bright coloured facade
Those are just a couple of generic examples. You can easily create your very own individual style with various design elements such as glass elements, sidelights, transom lights, handles, composite materials, and many other customisable details.
Front door models
RAL Palette offers a variety of choices
Casual simplicity with that certain something
Front doors don't have to be stylishly modern or lavishly decorated. Some people prefer a more minimalist design approach. Such doors may not exactly blow you away with their design, but they will definitely wow you with their high quality, even without any design gimmickry.
How well do aluminium and wood hold up as door materials?
We exclusively use wood and aluminium for our doors because both materials offer premium characteristics. While modern PVC is more of a mediocre choice in terms of materials, there's no getting around aluminium and wood on the premium door market. Aluminium is highly stable and resistant to ageing, while wood offers great thermal efficiency with an unmatched natural aesthetic. It's also possible to combine the great strengths of both materials by combining them.
Is anthracite grey a trendy colour?
The short answer is: Yes, though the word "trend" is a bit of a misnomer, as anthracite grey has been going strong for years. That it hasn't gone out of style speaks for the great appeal of the colour. Compared with brighter, more neutral shades of grey and the more contrastive colour black, anthracite grey is very harmonious and pleasant to the eyes.
Anthracite grey offers a timeless look which is especially important considering the longevity of Pirnar doors. The colour is an excellent choice for creating an impressive design that's made to last – just like our Pirnar doors, which easily outperform other manufacturers' doors in terms of durability. This is also true for our high-quality varnishes and coatings.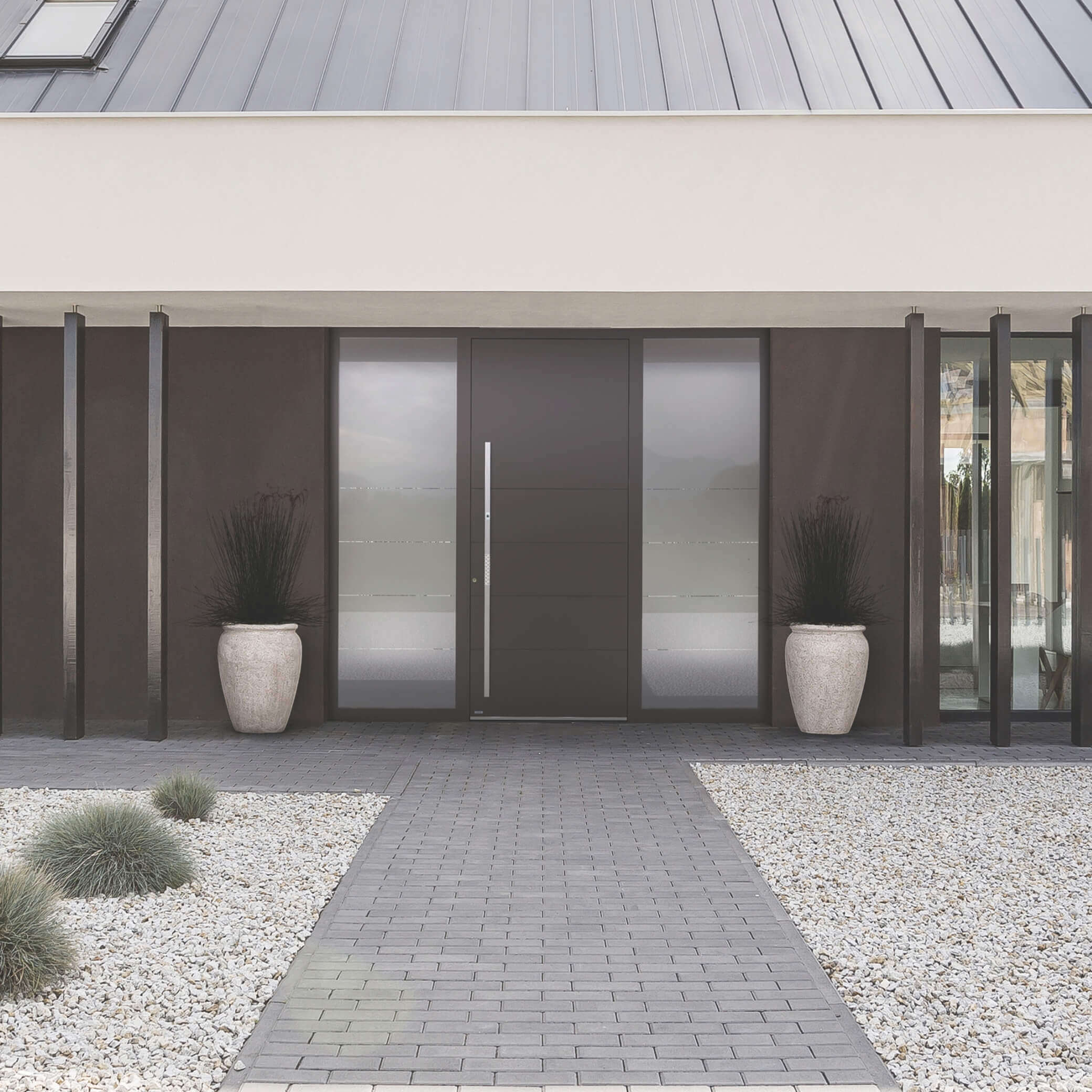 Quality Pirnar doors in anthracite colour
Create your own bespoke anthracite grey front door from one of our universal door templates to create a door that looks and feels great to you. On a side note, that's also an excellent option for couples that have difficulty deciding on a door.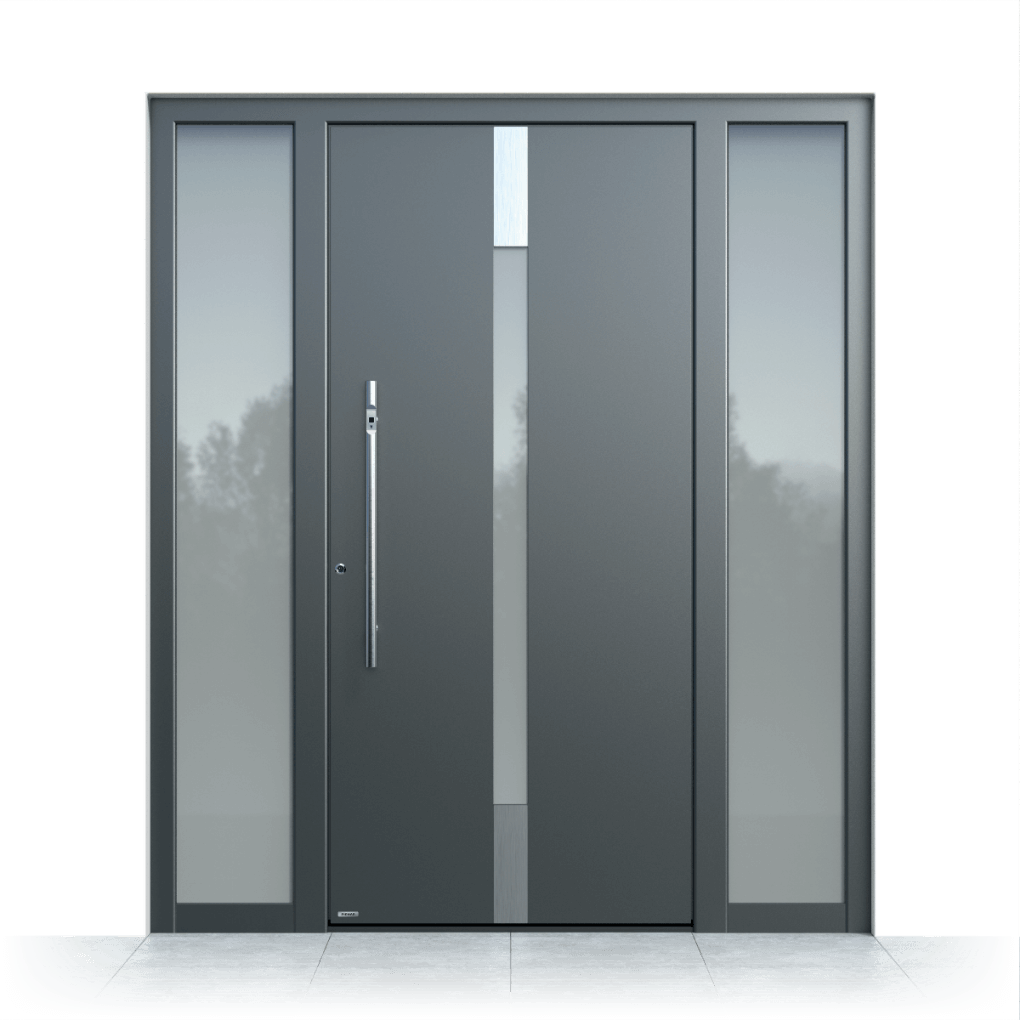 How to colour doors in anthracite grey?

This depends on the base material. We powder coat our aluminium doors. This makes them colourfast for years – cheap PVC doors would bleach out in the same timeframe. Also, the electrostatic dyeing method forgoes ecologically harmful solvents.

We use either long-lasting, scratch-resistant varnishes or glazes for wooden front doors. They preserve the wood's natural grain. You can also pick darker shades, i.e., anthracite grey.

Alternatives to the stylish shade

You can get a sophisticated look by combining a white front door with an anthracite grey door frame to create a visual contrast – a harmonious and elegantly modern combination. In that case, anthracite grey isn't used for the door leaf.

Alternatives to the dark grey are brighter nuances like basalt grey (RAL 7012) or classic black if you would like to achieve a stronger contrast. Anthracite grey also creates a harmonious ensemble with house fronts coloured in pastels or white nuances like ecru or eggshell.

Anti-burglary protection and long-term protection

Quality Pirnar doors are also perfect for anyone placing functionality above everything else. We set a high benchmark for security and thermal insulation. Our doors are highly resistant to wind, weather, and break-in attempts. They are incredibly durable for years with only a bare minimum of maintenance.

We use various technologies to further improve our various materials´ strengths. For example, our very effective insulating cores significantly amplify a door's thermal and energy efficiency. Another example is our CarbonCore reinforcement. We use it to increase the stability of our aluminium doors even further – perfect for oversized doors. In terms of anti-burglary protection and long-term protection from shape distortion, our doors set the benchmark!
Create a stylish anthracite
door with our configurator
Whether your door is anthracite grey, white, coloured in golden oak or any other shade – Pirnar doors are always premium quality and offer you various individualisation options. You decide on everything from ISO standard heat protection glass to security features in our Pirnar configurator. Also, this is not an either-or-decision. Design an anthracite grey front door built with all the features and aesthetic components you wish for, and we can guarantee you optimal values in energy efficiency, security, and robust stability.