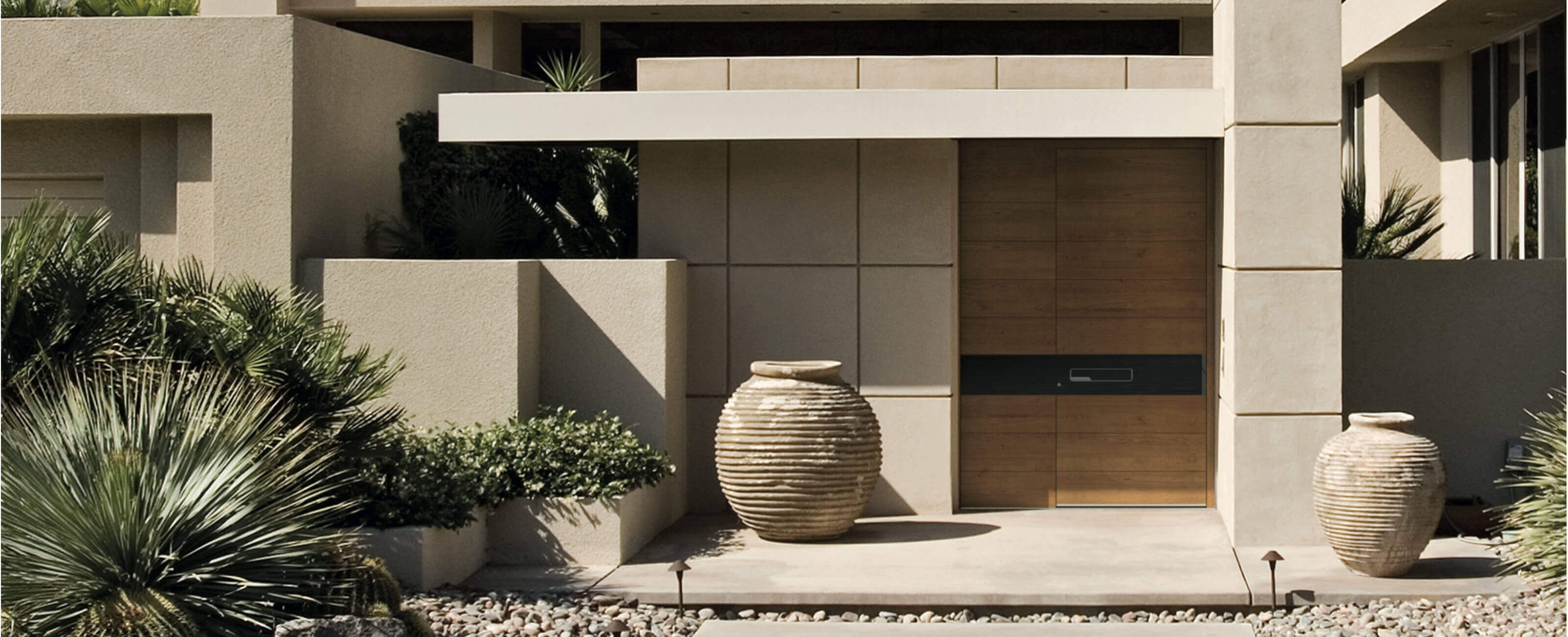 FOR A WARM FEELING OF HOME
Wooden front doors
Nature, captured in Pirnar's wooden front doors, for exceptional quality of living. Elegant wood doors create a feeling of mellowness and are a combination of modernity and tradition. Wood expresses homeliness, warmth and your loyalty to nature. Let yourself be charmed by the breath-taking designs.
The solid strength of wood for safe and comfortable living
Wood is an outstanding natural building material. Its warmth, countless uses and benefits ensure that it never goes out of fashion. At Pirnar, we treat this wonderful gift of nature with an exceptional flair for design and cutting-edge innovation. Hardwood, glazed timber doors are made to order from solid spruce, larch and oak hardwood. Nature ensures that each model is a unique work of art. Including yours.
#1

OAK

Oak is a symbol of solidity, endurance and strength. This type of external hardwood doors is rich in sophisticated colour shades, from grey-white to brown, and can darken considerably. At Pirnar, we take advantage of this characteristic when applying glazes and oil finishes to achieve rich hues reminiscent of exotic hardwood species.

#2

SPRUCE

An exterior door in spruce retains the characteristic structure of the softwood, while we enrich it with glazes in four different light shades. They go very well with the natural tones of other fittings or light floor coverings. Spruce material combines wonderfully with any Pirnar entrance series, as it provides a base that can be enhanced in a classic or modern way.

#3

Recommendation for larch lovers

Due to the current unavailability of larch, inquire about the availability of models in our showrooms or choose an entrance door made of other types of wood.
Natural advantages of wooden external doors
Pirnar's durable softwood or hardwood exterior doors with or without panels offer a high level of comfort and functionality because they are made of high-quality, solid timbered material, which has many natural advantages. They add a unique feeling of authenticity and warmth to your home and adapt to a wide range of architectural styles. They blend perfectly with modern technological innovations and retain a touch of a mysterious past in a fairytale-like way. So you can dream up any unique timbered piece made to order.
SOLIDITY

SOLIDITY

Timber is a durable and strong material that offers reliable stability. Masterpieces made of timber doors offer exceptional structural solidity, surpassing even steel structures. This applies to both single-leaf and double-leaf wooden external doors of greater dimensions. Softwood or hardwood elements made of solid external hardwood doors retain their load-bearing capacity even in the event of a fire and in very unfavourable weather conditions. It also withstands many damaging influences.

THERMAL INSULATION

THERMAL INSULATION

An important advantage of exterior doors is their optimal sound and heat insulation. Solid wood in itself offers very good sound and heat insulation as it retains the cold air from outside and at the same time the warm air inside. At Pirnar, exterior doors are treated with a variety of additional insulating materials.

DURABILITY

DURABILITY

Hardwood external doors, glazing or not, are ecological and environmentally friendly because they have a minimal impact on the environment during manufacture and use, and this natural material is also an important renewable resource. Models made of timbered material are therefore a sustainable product that can be easily restored and maintained, especially external oak front doors.

QUALITY OF LIVING

QUALITY OF LIVING

As wood is a hypoallergenic material, the glazing or not glazing doors have a positive effect on the human respiratory system and thus increase the quality of life. The doors effectively regulate the humidity of living spaces.

SECURITY

SECURITY

The solid and reliable construction of exterior doors from oak, spruce or larch, which we have fitted with multi-point security locks with solid hooks, protects your home from unforeseen dangers. When you close the door, you can be sure it will stay that way.

DIVERSITY OF FORM

DIVERSITY OF FORM

Thanks to the different shades given by the natural colour of the different types of wood, you can create a modern or classic design that blends in with the architectural style of your house or any other building, while emphasising your personal style. The paneled exterior doors (oak, spruce, larch) can also be combined with solid aluminium, whereby the inner wooden frames merge with the outer aluminium shell.
Take a look at the most beautiful models
of wooden doors from Pirnar
The choice of wooden external doors is practically unlimited. Close your eyes for a moment and imagine what kind of paneled external door from oak for instance you actually want. Do you want your house to have a classic charm? Then you should take a look at the traditional unglazed or cottage masterpieces that will round off your architectural style like the icing on the cake. Or perhaps you live in the middle of the city hustle and bustle and want to bring some natural warmth to the urban style of your home with an external door made of wood? Ultra-modern and solid paneled hardwood exterior doors fulfil exactly such wishes.
Ultimum Pure – OAK
The unique Ultimum Pure line in solid oak with the elegant modern handles and oil finish suits the most modern architectural styles. All door elements are aesthetically aligned on a single plane and the wood conveys a feeling of warmth despite its modern look. Combined with the glass side lighting, they create a monumental front door that brings additional natural light into the interior of the house.
Premium models – SPRUCE
Spruce entrance doors retain the characteristic structure and colour of wood, and in combination with aluminium elements, the colour scale is greatly expanded. The subdued, light colour also suits more modern architecture and underlines the individuality of the person. The combination of the classic and modern creates the perfect front door for your home.
Premium models – LARCH - Recommendation for larch lovers
Due to the current unavailability of larch, inquire about the availability of models in our showrooms or choose an entrance door made of other types of wood.
Larch gives paneled and glazed external doors a particularly warm appearance, as it is already reddish in its base. The models can be produced in multi-coloured versions, whereby you can come up with a different colour for the inside than for the outside. Larch impresses with its dense structure and pronounced tree rings, which makes your house stand out amazingly from the average.
DESIGN YOUR WOODEN FRONT DOORS
Unique accessories for wooden entrances
These natural external doors can be adorned with many custom accessories that together create stylish and aesthetic perfection to your taste. In this way, the house will accommodate a variety of styles and minimalist details, bold lines or elegant textures. There are no limits to adding aesthetic elements, as you can explore the many shades of timber and glass covers with endless possibilities of playing with textures and decorative patterns to create special effects.
Unique natural pieces with glass and aluminium
Glass is a highly decorative yet very practical material that complements wood perfectly. You can incorporate satin and clear glass, white and metal-coloured glass, glass with motifs and reliefs, and stained glass into elegant Pirnar glazed doors. Combine them with aluminium as you like and add a touch of modernity to the details. In combination with lighting, they make for a magnificent entrance that suits even the most modern external doors and houses.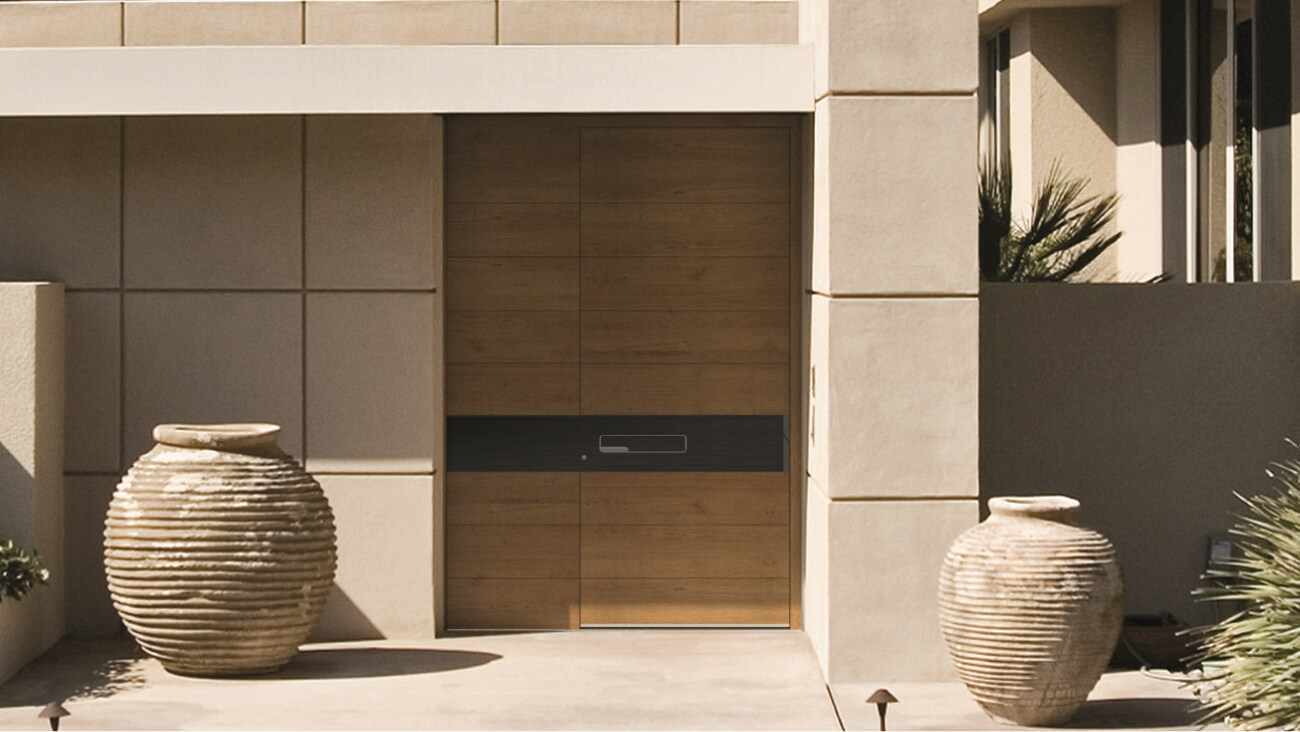 Awarded handles for the majestic wooden entrances
The choice of handles, knobs and pull bars for external doors is extremely varied and depends on the style of your home and font door design. Modern range od models can be perfectly combined with ultra-modern handles, such as the OneTouch, which is automatically immersed into the door leaf. Hardwood innovations are also adorned with prestigious square or round external pull bars and handles that can be illuminated or engraved with an illuminated inscription of your choice.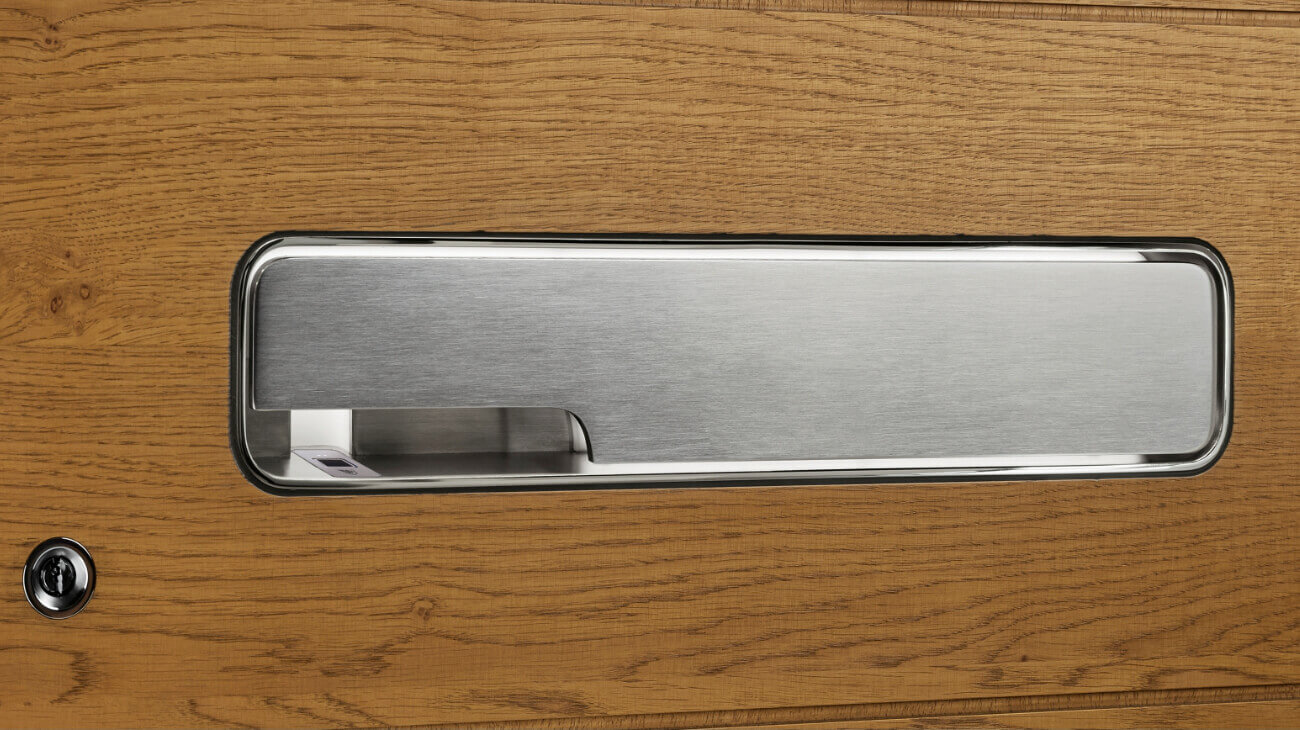 A wide range of colours
Entrance doors can be surface-treated in many ways. You can choose front door colour or choose any natural colour that stylishly matches the colour of your façade. For Pirnar's masterpieces in oak, spruce and larch, we offer a rich selection of glazes and oils that are used to create different colour effects. From warm earth tones to cooler and lighter shades that further emphasise the structure of the chosen model.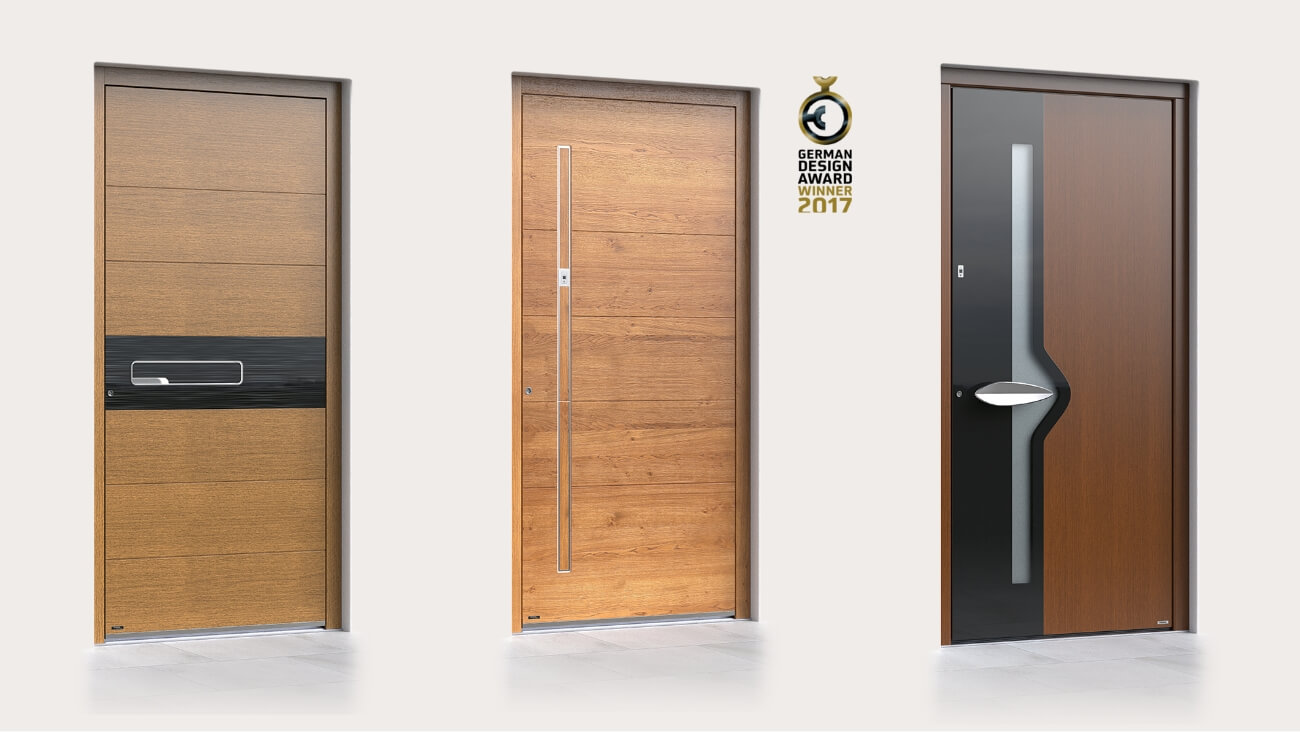 Accessories for more security
They are very secure in themselves. You can further increase the security of your door with higher security standards, strengthen the lock and cylinder, reinforce the hinges and opt for a state-of-the-art door opening system with a SECURO fingerprint scanner for additional burglary protection.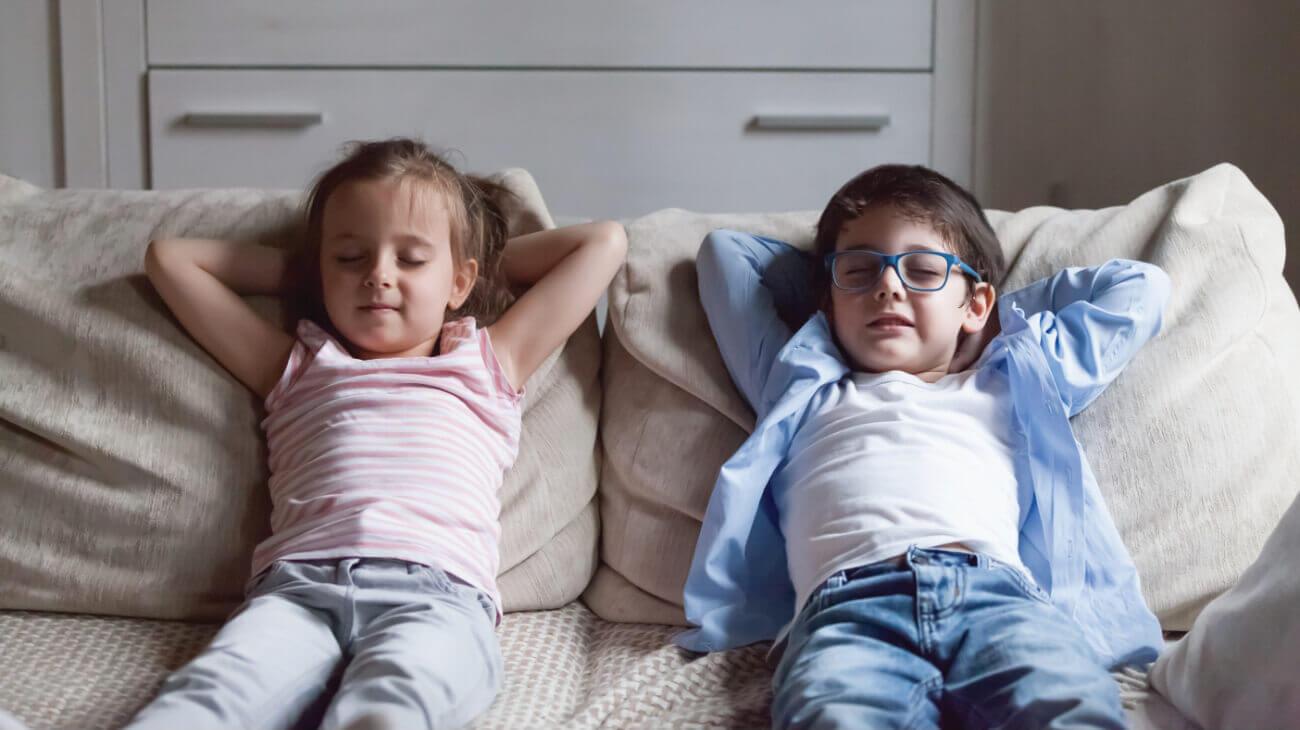 Tips for choosing the perfect front door
Where to buy the best external wooden front doors?

You can buy all possible external doors in Pirnar's showrooms in London, Luton and Birmingham. During a personal consultation in our showrooms, you will learn about all the advantages of front doors made from trees (especially from oak, spruce, larch and our made-to-measure front doors). In addition to the consultation, you can see the most beautiful models in person and convince yourself of the quality, value and top workmanship.

How much are external hardwood front doors? Ask for a free quote for any non-PVCu range of wooden front doors (inc VAT) or timber bi-fold doors. Design your dream external wooden doors today using the Configurator.

Go to the Configurator and
browse out external doors range online

Find the nearest showroom
You can experience Pirnar paneled and glazed entrance doors from oak, spruce or larch in person in showrooms around the Netherlands. Choose the one closest to you and view range of our external wooden doors at Pirnar Showroom Hilversum.

What are the advantages of wooden external doors compared to others?

These external glazed stable or traditional external wooden doors have a number of advantages over other materials. They are extremely solid, traditional, stable, secure and – you will not believe it – even many times stronger than steel. That's why this natural material construction works well even in the event of a fire. Due to their exceptional solidity, they can be manufactured in different sizes.

A natural and breathable material! It regulates moisture very well and ensures healthy living. Due to its solidity, it offers excellent thermal insulation and, with certain enhancements, additional sound insulation.

What does this material look like after 10 years?

It is a natural material that changes its appearance through long-term exposure to various weather conditions. Colour fastness depends on the type of material you choose for your chosen door, the location and regular care and maintenance.

You can effectively extend the life of your door yourself. It is important that it is professionally treated, protected and painted at the time of purchase. You can also ensure better thermal insulation with certain accessories such as seals, sealing strips and automatic thresholds. This also improves sound insulation.

If you have an old door that has become crooked due to weather and time, we recommend that you call in a professional with experience and knowledge to ensure that your front door is restored to its former glory and its life is extended.

How do you clean and care for a wooden front door?

It is a living material that needs regular and appropriate protection. Treat your entrance door with care otherwise, the surface or the colour will suffer damage. The frequency of care depends on the colour and location of the door.

We recommend cleaning and protecting the surfaces at least twice a year. Clean them with a gentle, damp cloth and non-abrasive hardwood cleaners. If the surface becomes damaged, it is important to repair the damaged area immediately otherwise, there is a risk of water penetrating any hardwood, freezing in winter and the coating peeling off.

External influences can cause damage to the colour. Clean the surface, which must be dry and dust-free before oiling, with a damp cloth and oil it again. Oil the surface, wait 5 minutes until the oil is absorbed and then wipe off the excess oil with a cloth in the direction of the tree rings. Seek the advice of a professional to repair major damage. Minor damage such as scratches and small cracks can be repaired with a fine brush and water-soluble acrylic-based paint. Just like any composite or french doors, the bets cleaning touch deserves your interior doors or glazed doors.

How safe is a timber front doors?

Because of their solidity and strength, these front glazed stable external doors are extremely secure and durable. You can provide extra security in a number of ways. Opt for high-quality handles, locks, hinges, peepholes and self-closing devices, which must be particularly sturdy due to the weight of the door leaf. We recommend the use of a multi-point lock with various state-of-the-art locking systems. A cylindrical insert can also increase security, but only if it is installed in a high-quality front door. In older buildings, it is best to replace the old glazed external doors with security glazed stable doors that offer additional protection against burglary and are also available as Doorsets.