UNIQUELY STYLISH PINK
Pink front doors
Pink front doors are completely out of the ordinary. At Pirnar, we appreciate their elegance, cheerfulness and flamboyancy. They add a vibrant splash of colour to any exterior and charm your family and guests with their inviting and positive aura. With the right door furniture, pink front doors create an eye-catching masterpiece for your home.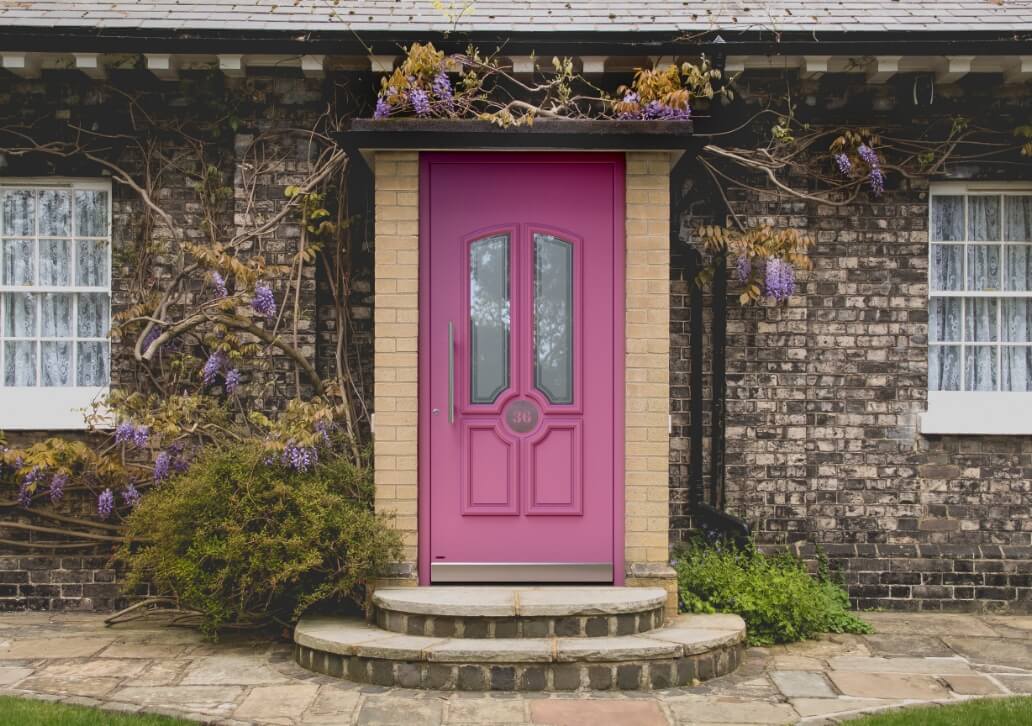 The meaning of a pink door
A front door´s colour can tell a lot about the people living behind it. Bright colours, such as blue, red, or yellow, carry symbolisms of happiness and wealth, but pink front doors are unique in their significance. Pink is associated with romance, generosity, youth and playfulness. It´s the colour of hopeless romantics and reflects their homeowner's outgoing and engaging personality.
There are several corners in the UK that appreciate the warm welcome of a brightly coloured front door. It comes as no surprise that people in this region cherish bold pink doors.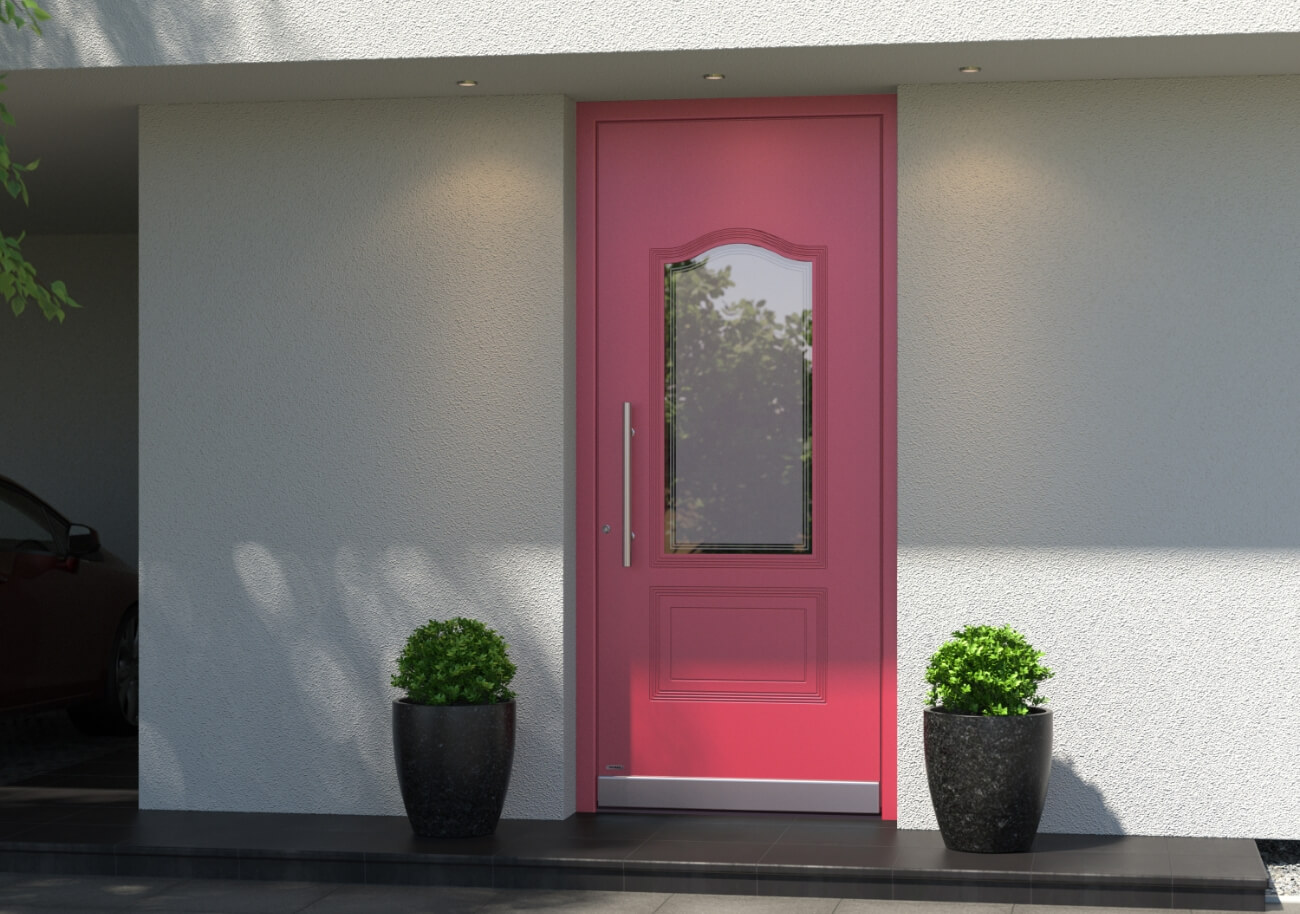 Front door models
RAL Palette offers a variety of choices
Choosing the right door design
Pink front doors add curb appeal to any property. They look exceptionally great with cottage houses but look equally well with mid-century modern architecture. Historically, brightly coloured front doors have their origin in the Victorian and Edwardian periods. We, too, appreciate the style and look of a traditional front door. Our Pirnar Classico collection offers a large variety of different options for their bespoke historic door.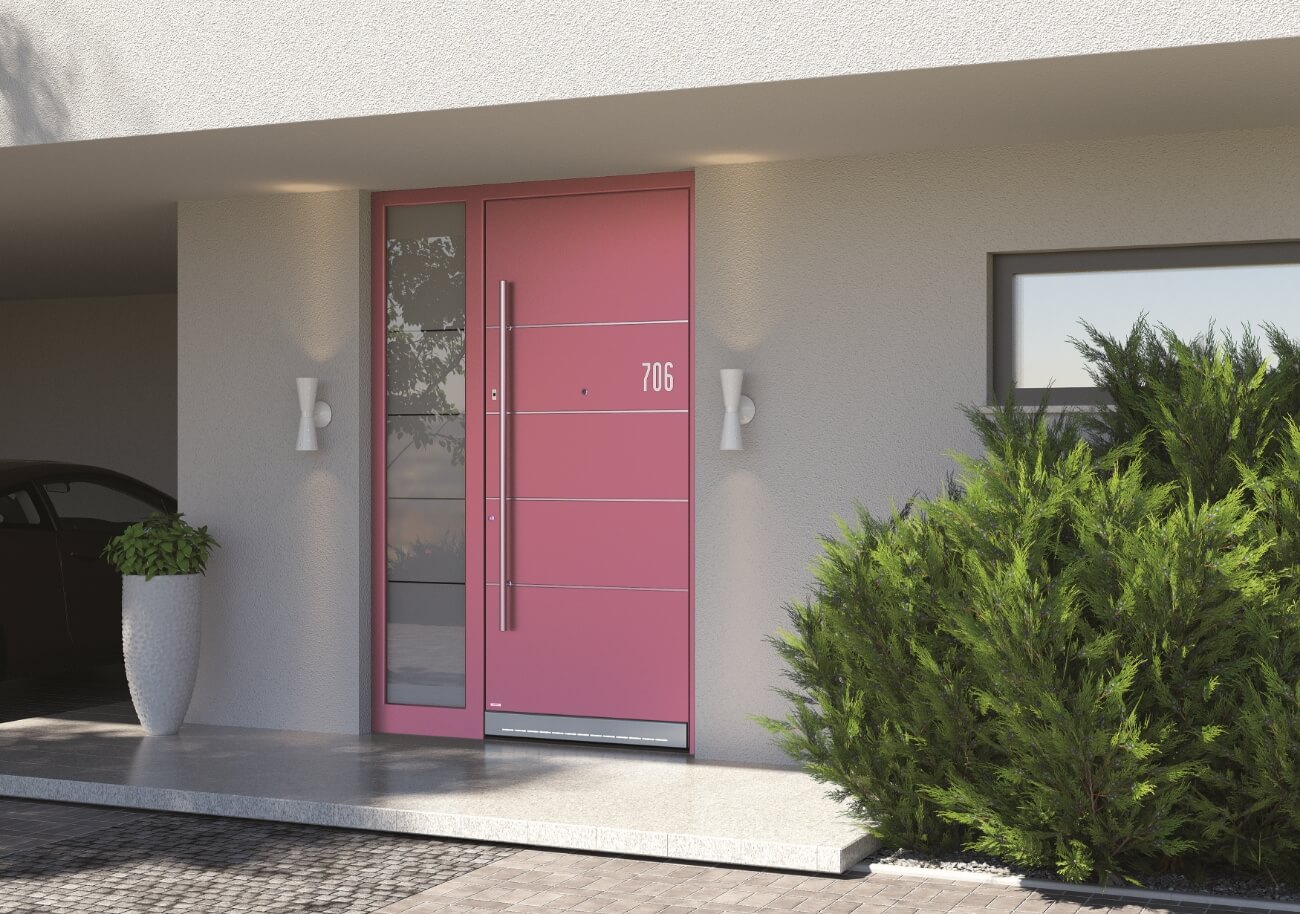 Our Classico doors can be built out of solid timber, creating an authentic wooden door. However, as technologies and insulation techniques have evolved, our talented artisans can also create a traditional pink front door with high-quality aluminium. While wooden front doors are unique in their warm texture and feel, they also require a weather shield and regular maintenance to keep them protected from heavy weather.
With our aluminium collection, you can easily choose any RAL colour and finish for your bespoke front door. This versatility guarantees a pink front door that meets your high expectations in every sense.
Is a pink front door the right choice for a house?
Our state-of-the-art front doors are here to stay. This is why we want to make sure your door still looks flawless after many years. Deciding on a colourful door can be daunting because many fear that their door will look dated and tacky after a while.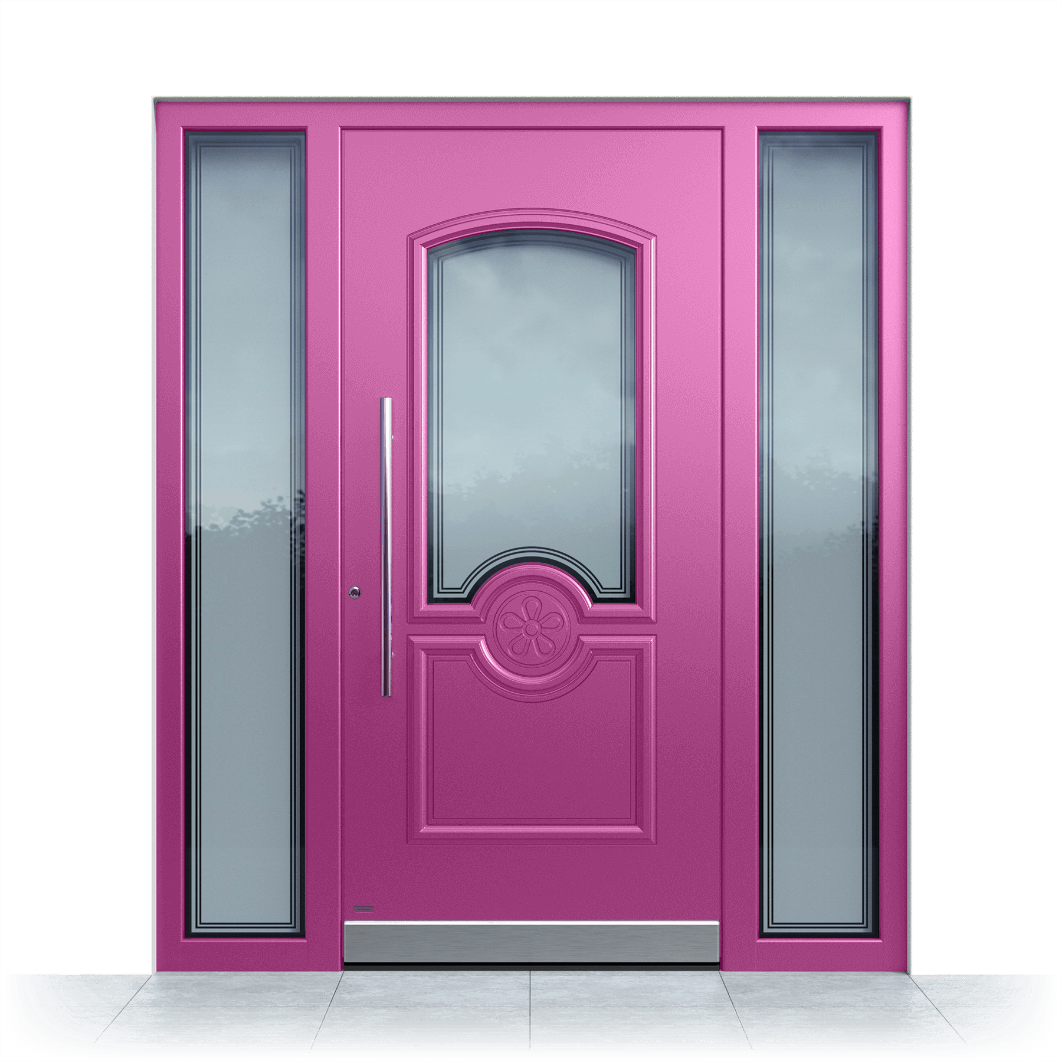 Shades of pink – from soft blush to hot pink

Unlike with black or white, there isn't just one shade when it comes to pink door colours. At Pirnar, we offer the entire RAL colour palette for your powder-coated aluminium door. This allows you to choose any shade of pink that suits your particular aesthetic, ranging from bold Telemagenta to romantic Light Pink. Some of our other shades include:

RAL 3014 Antique Pink
RAL 3017 Rose
RAL 3022 Salmon Pink
RAL 4003 Heather Violet

You can select your favourite colour in our configurator. Depending on your exterior, you can enhance your door with a slight blush colour or perhaps a bright, vibrant hue.

Staying in line with the overall composition

As pink paint can be very dominant, it works best with neutral grey or brown brick houses or homes with a beige exterior. A white picket fence and a romantic front porch can be rounded off with a painted pink front door. To avoid tackiness, brightly coloured front doors should be the only colourful centrepiece of your entrance area. However, soft blush pinks work especially well with a dark green decor or blue wall paint.

A romantic cottage house with brick, bay windows and a small porch will definitely profit from a fashionable pink entranceway. Add some decor and plants to your porch, and your house will radiate your passion for romance and your attention to details.

Door furnishings for your front door

When deciding on door furnishings, you should choose based on the style and design of your door. Do you would like to create an authentic traditional door, or would you prefer a futuristic, or more modern entrance? To be able to fulfil all your wishes, we offer a variety of different door furnishings that can easily complete the look you expect from your entryway, such as:

doorknobs
knockers
letterboxes
glazing
doorbell
lighting

Pink front doors profit from golden accents and decor. This gives them an elegant, luxurious look while staying in line with traditional front doors. Golden furnishings also accentuate wooden windows or shutters and tie in nicely with dark walls or panelling. In our configurator, you can easily explore all available options and choose what suits you best.
Why are pink front doors
great for many houses?
Front doors painted pink will stand out from other front doors in your neighbourhood. A pink door will add to our property's appeal and greet guests with its cheerful charm. If your home could do with a bit of colour, have a look at our pink front door options via our Pirnar configurator.