A front door in red
A red front door is a colourful, vivid accent in the overall appearance of a house. But the bright colour is not as easy to combine as, for example, white or other, more neutral nuances. Nevertheless, such a front door can be skilfully displayed, in order to create a coherent image. When it comes to colour, there are not only design issues to be considered, but also functional aspects, especially the resistance to scratches. Also particularly important: bright colours such as red are less forgiving when it comes to fading. This is why our Pirnar front doors meet the highest demands on the durability of paints and coatings.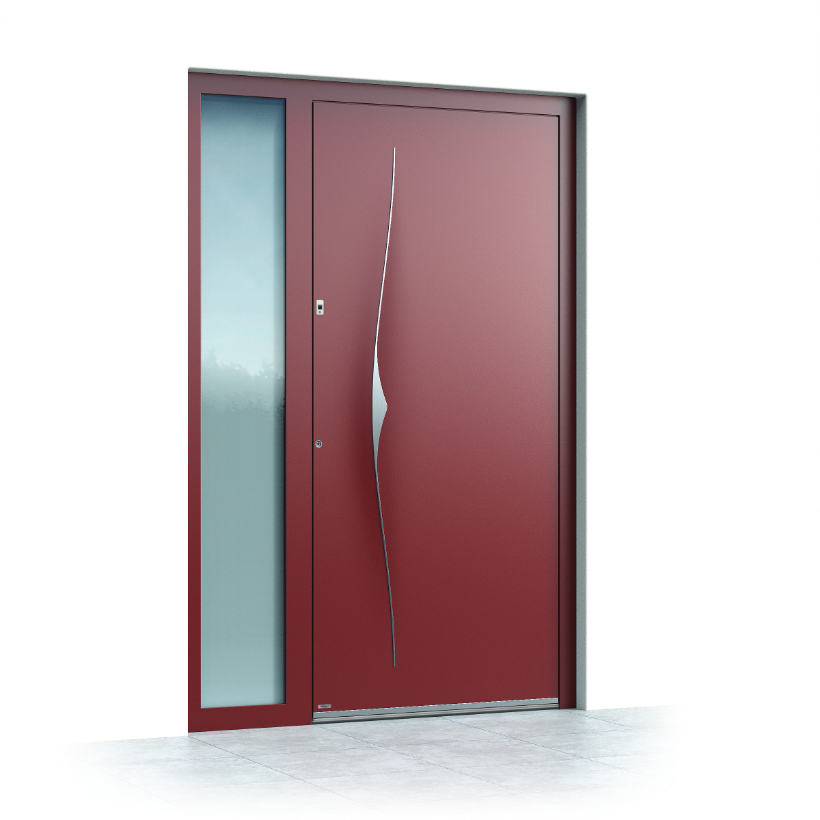 How to make the most out of a red front door
The overall look of your entrance area, i.e. the visual context in which the door is set, is decisive. If you´re thinking of picking such a distinctive colour, you should carefully consider the surrounding aspects. Caution is required in all design decisions that affect architecture. Our front doors are almost indestructible and will last for many decades. The choice of colour is just one of many important decisions you will make regarding the gateway to your own four walls, which you will not replace in the foreseeable future. Besides the facade, there are other surrounding aspects that need to be considered like decorative elements, side panels and many more. A balance can be achieved, for example, through glass elements, colour contrasts and by playing with associations. In the Pirnar.co.uk configurator we offer you a few suggestions on how to design your dream door.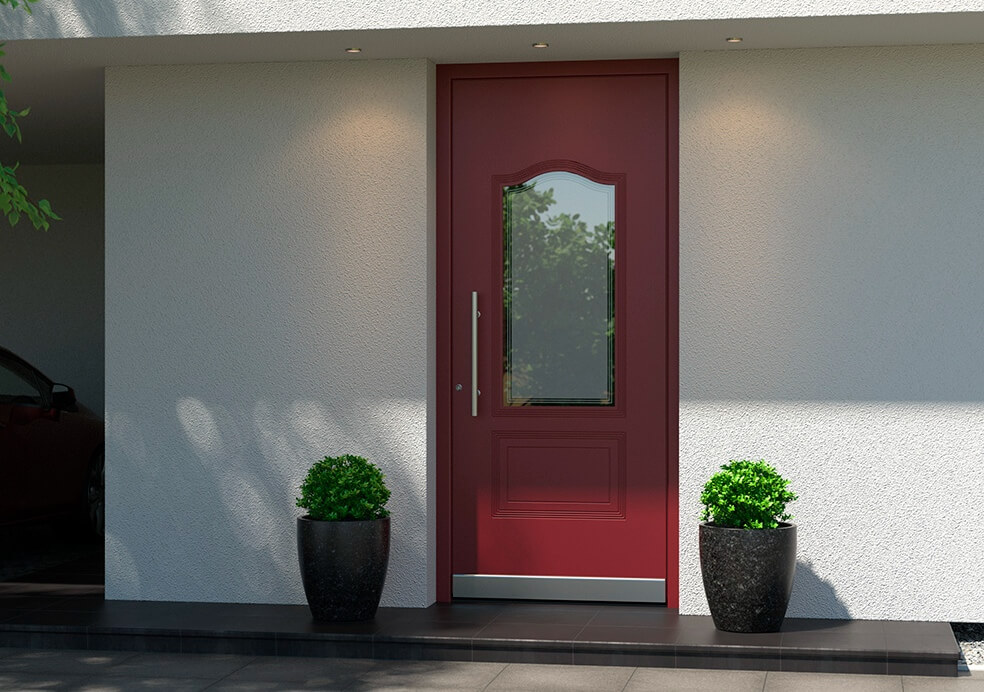 Front door models
RAL Palette offers a variety of choices
Atmospheric variants and nuances
First of all, the colour brightness is adjustable. While lighter variants tend to appear gaudy, fresh and extroverted, darker variants, such as the RAL 3004, can also be used in a more sedate manner. Strong red is a signal colour and therefore catches the eye. This applies primarily to you, but also to bypassers, provided the front door can be seen from the street. There are many people who want it exactly that way.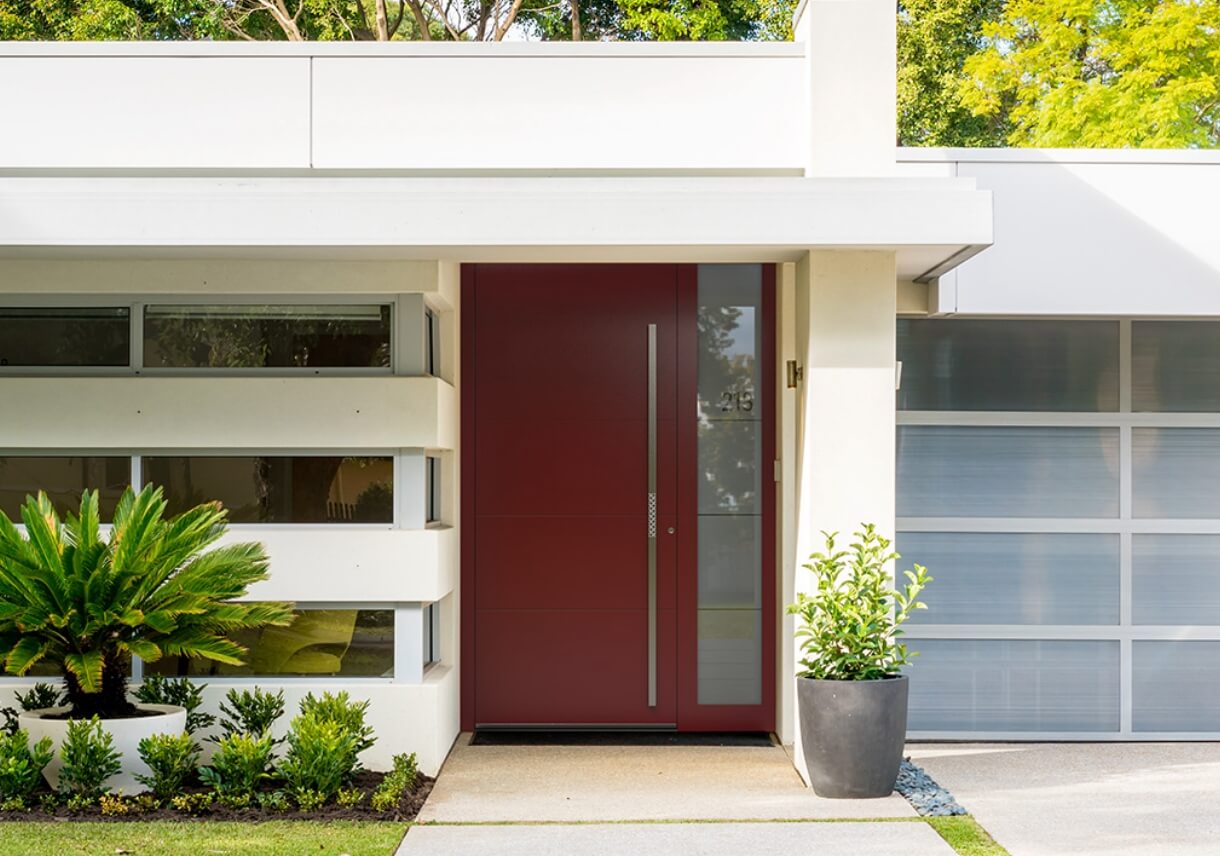 Although the difference may not seem so great, darker variants create a completely different picture. They appear rather elegant, modern and surprisingly reserved. Nevertheless, doors and windows in dark nuances offer a special highlight that stands out. Furthermore, there are different types of surface properties. They can be designed to be silky and mat. Perhaps you personally are more enthusiastic about a metallic coating, which you can choose to be smooth or with a fine structure.
Aside from that, red tones can be created in other ways too, and not only through paints and coatings. An aluminium front door can also be made with a decor in a natural wood look, for example cherry wood, while a front door made of real wood can be glazed accordingly. Cherry is not ideal for this: for a glaze that is slightly reddish, you can choose oak, for example.
Application options in the overall concept
The colour red generates many associations. Therefore, the signal colour can be used very prominently to create certain moods. Almost everything is possible – thanks to our configurator you can optimally implement your individual ideas when designing your front door. Subsequently, we provide you with some suggestions as to what a particularly harmonious design looks like.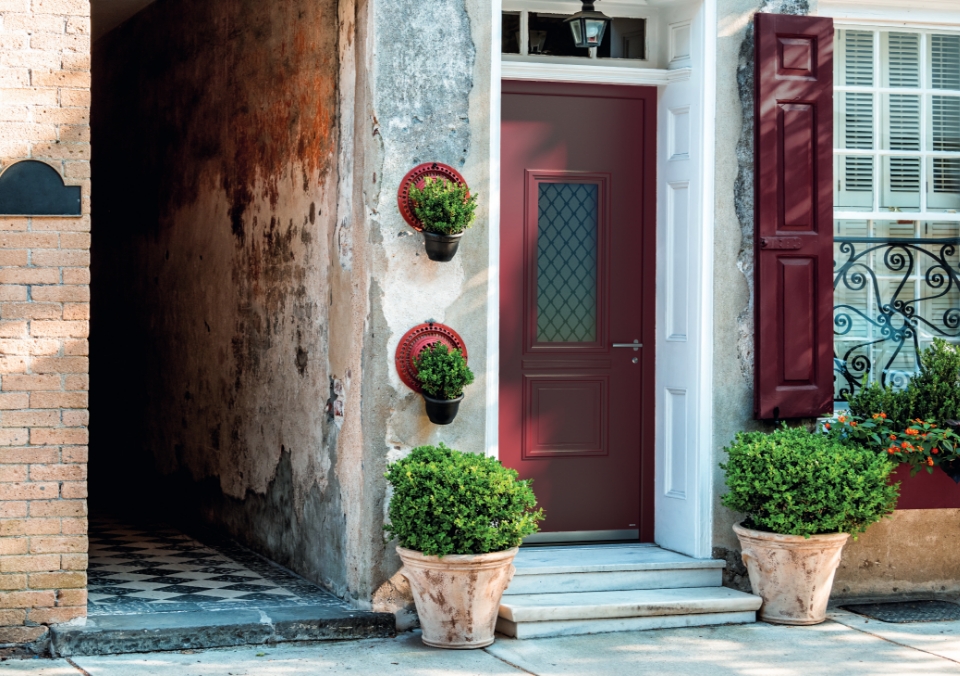 Strong contrast within light facades

A red front door is also conceivable with darker colours, but combining them with a light tone, above all white, is more harmonious in many cases. After all, white walls can handle a splash of colour as a targeted accent and individual eye-catcher. The contrasts do not have to be directly adjacent. A combination of red, white and anthracite looks particularly modern. The latter is used as a panel around the door and forms a frame between the white walls and the red front door.

Special feature: front doors with a red facade

When it comes to architectural concepts involving red colourings, many people immediately think of the typical brick wall. A brick look can actually be made extremely aesthetic in many cases. In this instance, it is not the front door, but the facade that is kept reddish. This allows you to create extremely coherent styles. Examples are:

newly staged industrial romanticism
manor houses in picturesque country house style
expensive city villas in classic old buildings

The high-quality industrial look is particularly popular. Many old monuments dating back to industrialisation have now been transformed into high-class loft apartments with high ceilings, lots of glass and the typically reddish brick walls. The most striking example is the Hamburg HafenCity with the numerous warehouses of the old Hanseatic League. This style is not only found in historical port cities but can be implemented harmoniously anywhere else in the world.
The red palette in our front door configurator
The colour provides a particularly noticeable signal factor for house doors. However, it can still be skilfully staged and kept in balance through the surrounding conditions. In any case, this colour shade in its various designs and nuances offers you a unique feature for your house. Regardless of which colour you ultimately choose - with a Pirnar front door you don't have to worry about anything else. On a functional level, they meet the highest requirements for stability, anti-burglary protection, thermal insulation and much more.