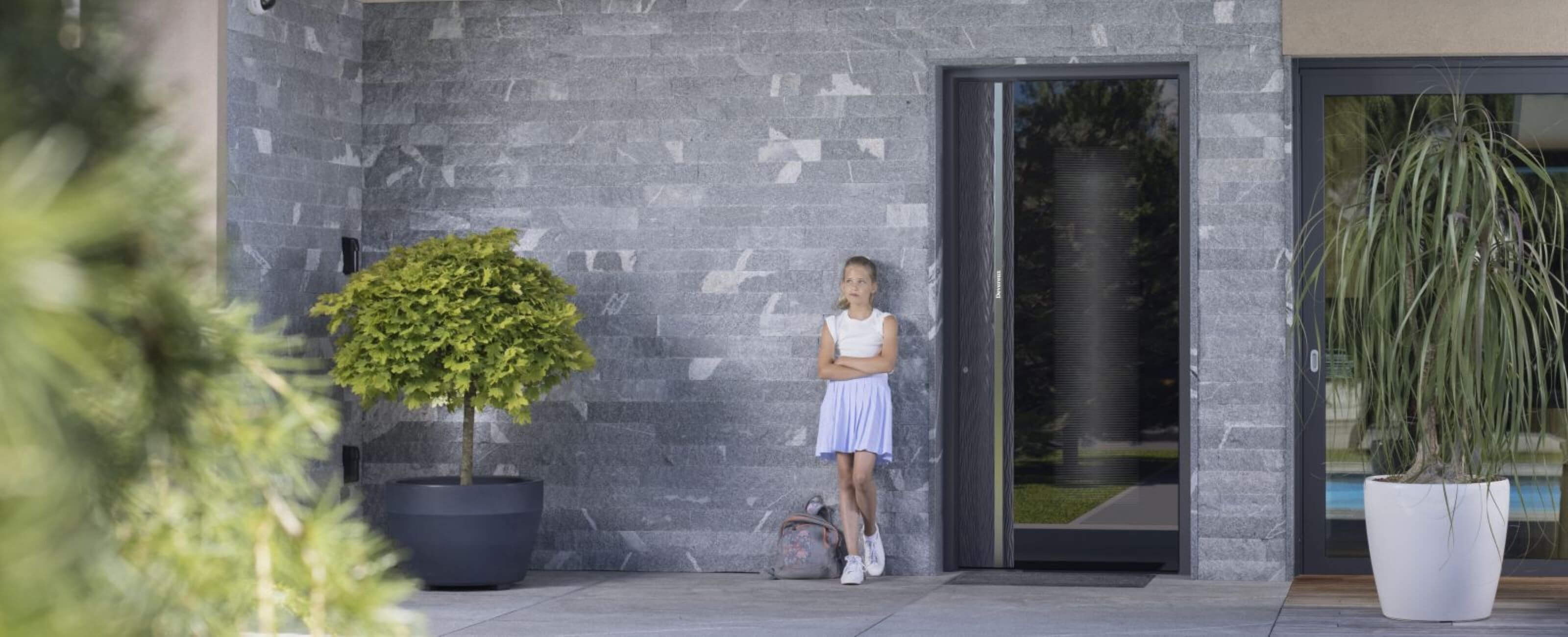 FOR SECURITY, STYLE AND FUNCTIONALITY
Amazing glass for front doors
Front doors with rich ornamental glazing or lighting create a timeless entrance to your house
Unrivalled advantages
of front doors with glass
Glass is a beautiful element that is not only decorative but also breathes character into a door and provides friendly lighting for the area behind it. The combination of glass and either wood or aluminium is perfect for smaller rooms or rooms with little or no natural light and also provides good insulation and security.
#1

Outstanding functionality

Many people are concerned about the energy efficiency and security of glass when they consider incorporating it into a front door, but this is no longer necessary. At Pirnar, we incorporate triple- or quadruple-glazing that effectively prevents heat loss, offers superior acoustic comfort and ensures a high level of security.

#2

Aesthetic elegance

Solid insulating glass adds elegance to your door and lets natural light into your home. Glass lends itself to many magical treatments and finishes – sandblasting, frosting, overlays, engraving, staining … it can be clear, coloured, opaque or white. The possibilities are endless and only limited by your imagination.

#3

Versatility

Glass can be incorporated into your front door in a multitude of ways and forms. It can create small details in the door such as horizontal stripes or be included as a large centrepiece. Glass comes in different shapes, from square and straight-edged elements to ones that are curved, rounded, semi-circular or oval-shaped ... depending, of course, on the style of the building, your preferences and personal aesthetics.
Highest quality decorative glass elements
Glass is a timeless aesthetic and decorative element that transforms your entrance into a masterpiece. At Pirnar, we manufacture and treat glass ourselves to satisfy even the most demanding customers. The treatments we employ include:
sandblasting,
frosting,
overlays,
engraving,
staining,
tempering, and
laminating security glass.
Sidelights
Not only is glass an indispensable element for illuminating poorly-lit entranceways, it is also perfect for buildings that are already well lit but where we want to bring in more natural light. Sidelights are the perfect solution and are particularly popular with property owners whose front door opens directly into their living area. They can be positioned on one or both sides of the door and be of different shapes and sizes. They can even be larger than the door itself! Light energises us and gives us a sensation of freedom and openness. Why not welcome it in through your front door?
Front doors with sidelights
Security glass for the ultimate protection of your home
Glass is often perceived as a fragile material; however, with special treatment it can transform your entrance into a bastion of security. At Pirnar, we not only strengthen it to the point of being almost unbreakable, we also make sure that it is shatterproof … no more sharp, jagged pieces. Tempered security glass coupled with solid materials such as aluminium or wood, creates a truly durable, secure and solid entrance to your home.
Toughened or tempered safety glass – ESG
Tempered glass is thermally toughened safety glass, also known technically as heat-strengthened glass. It is four to five times more impact resistant than ordinary glass, has greater strength and is more resistant to temperature changes. Its main advantage is that it does not shatter or produce hazardous glass shards if broken, rather, the glass cracks and takes on the appearance of a cobweb but does not break through.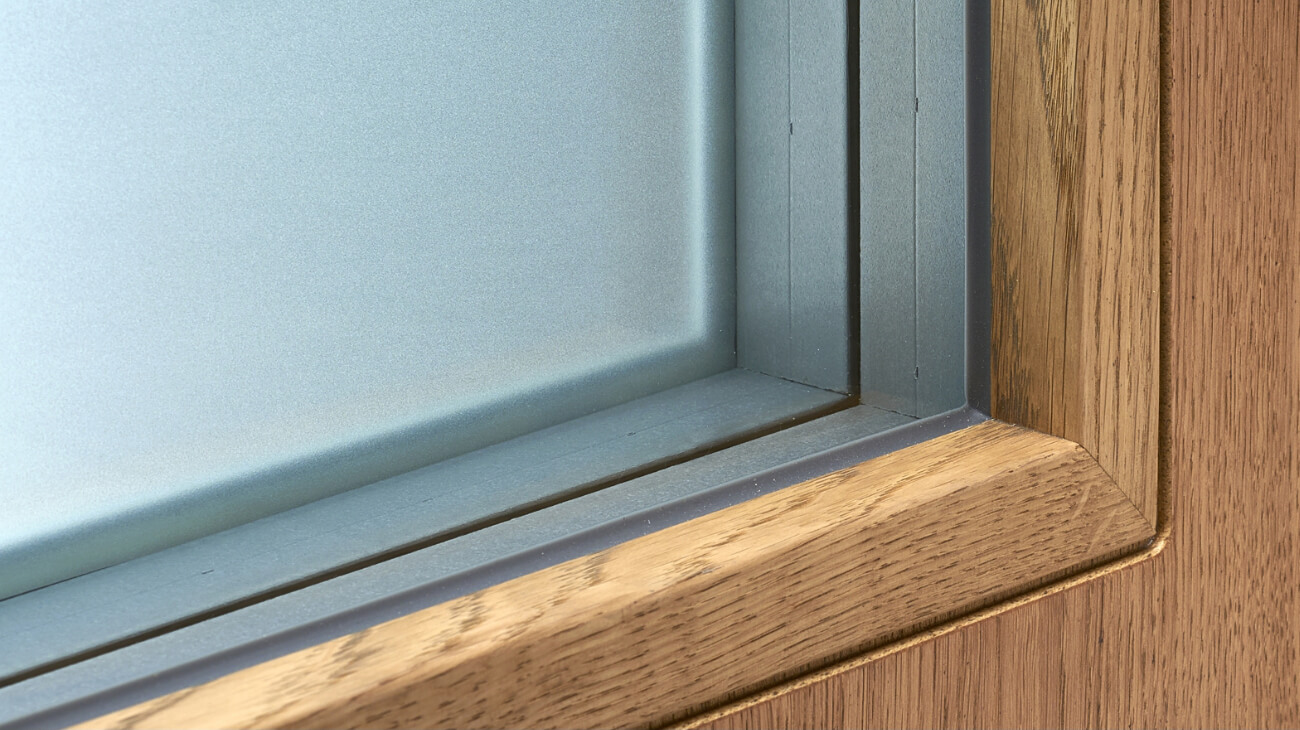 Laminated safety glass – VSG
Laminated safety glass provides intruder protection and has a significant advantage over toughened safety glass. It consists of two or more glass panes that are firmly bonded together with interlayers of varying thicknesses and properties. These interlayers prevent the glass from separating if it gets broken, preventing injury. Laminated glass also makes burglary more difficult as it does not collapse, thus preventing an intruder from gaining immediate entry.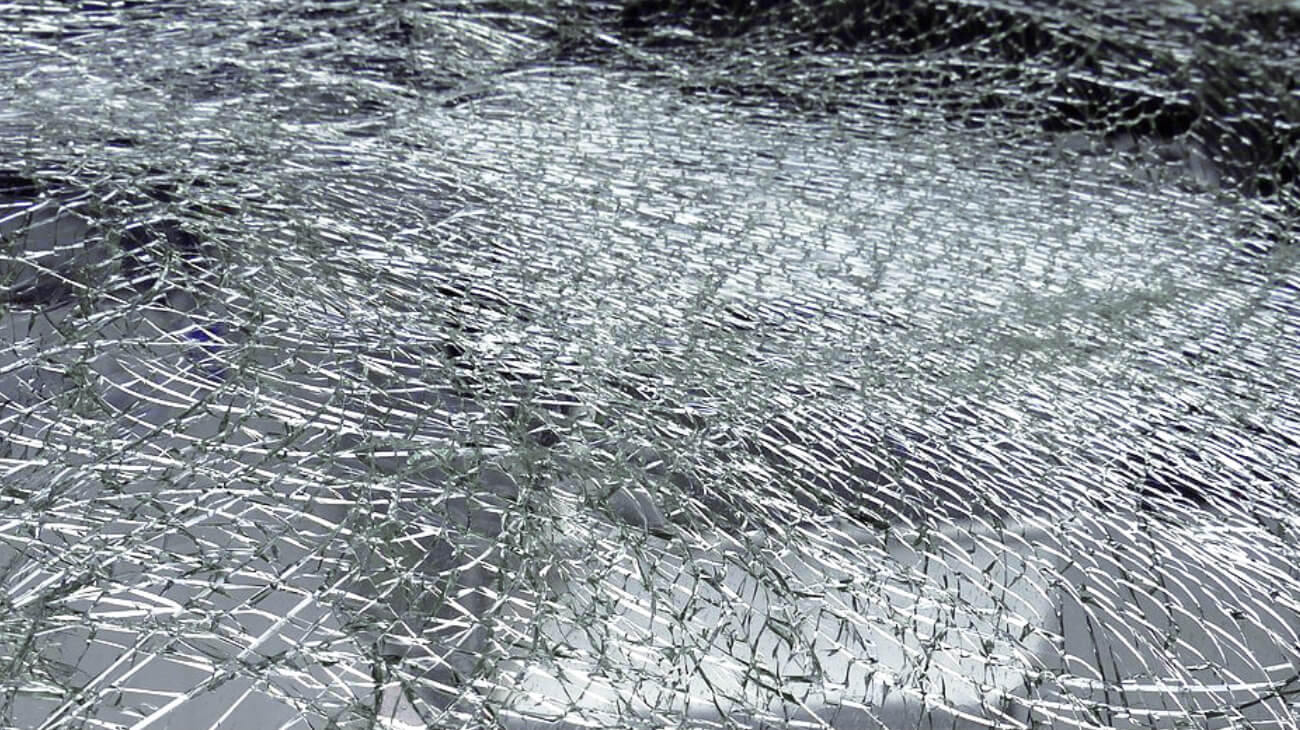 Care and maintenance of glass surfaces
We clean glass surfaces with glass cleaner, taking care that wooden or aluminum surfaces do not come into a contact with the cleaner. Door cleaning is performed in autumn and spring, at moderate temperatures not exceeding 25 degrees Celsius. Regardless of the material chosen, always wipe the door dry with a soft, non-abrasive microfiber cloth, which is intended for cleaning windows and ensures flawless wiping without fibers and streaks. Some people swear by paper coffee filters when cleaning, but paper can cause damage and scratches on the glass.