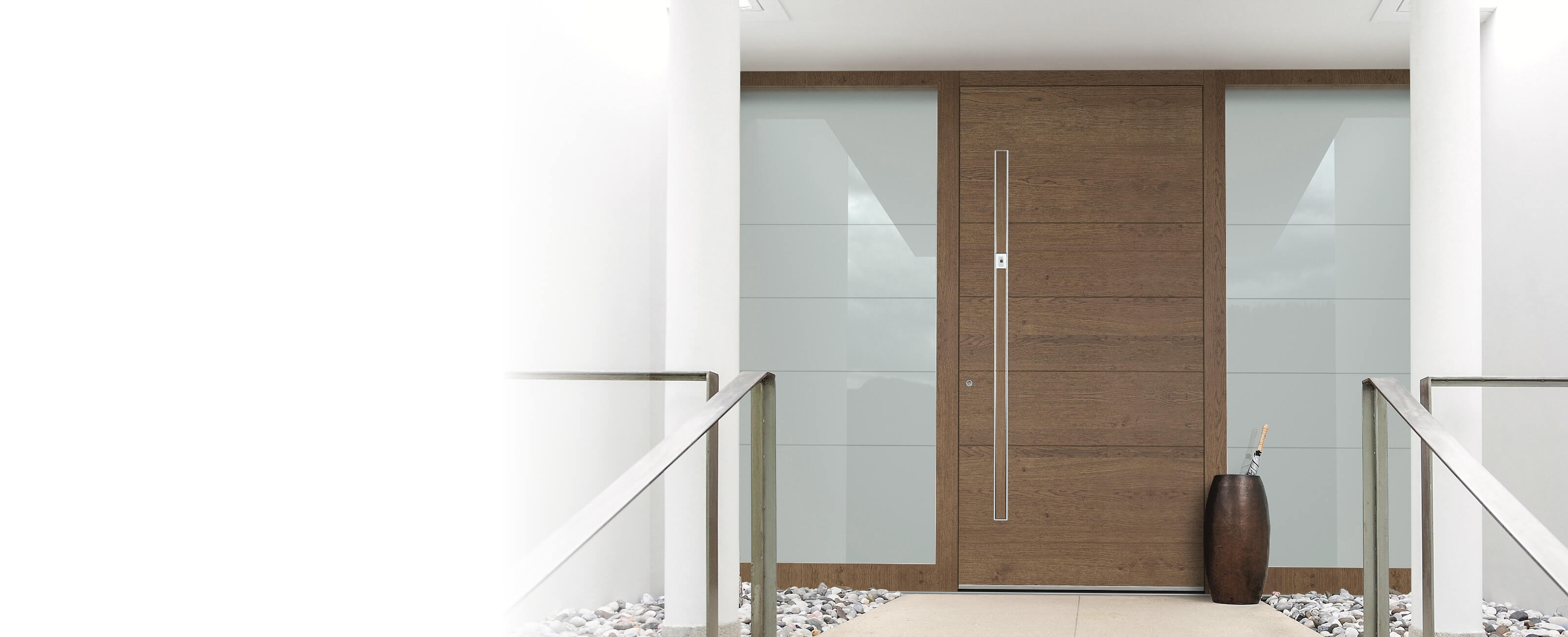 A STYLISH CLASSIC
Modern wood front doors
Designing a modern wooden front door is quick and easy with Pirnar. Modern designs are characterised by their clean lines, which enable the material and workmanship to take centre stage without emphasising embellishments. The same applies to front doors, windows and the entire facade.
What makes wooden front doors modern?
The most important factor is the design. The material itself is neither modern nor classic, but an all-rounder perfectly suited for all styles. A wooden front door becomes modern as a result of several factors, these include:
simple shapes without any embellishments
composites of glass, aluminium and even cement
clean designs and straight lines
premium quality material and craftsmanship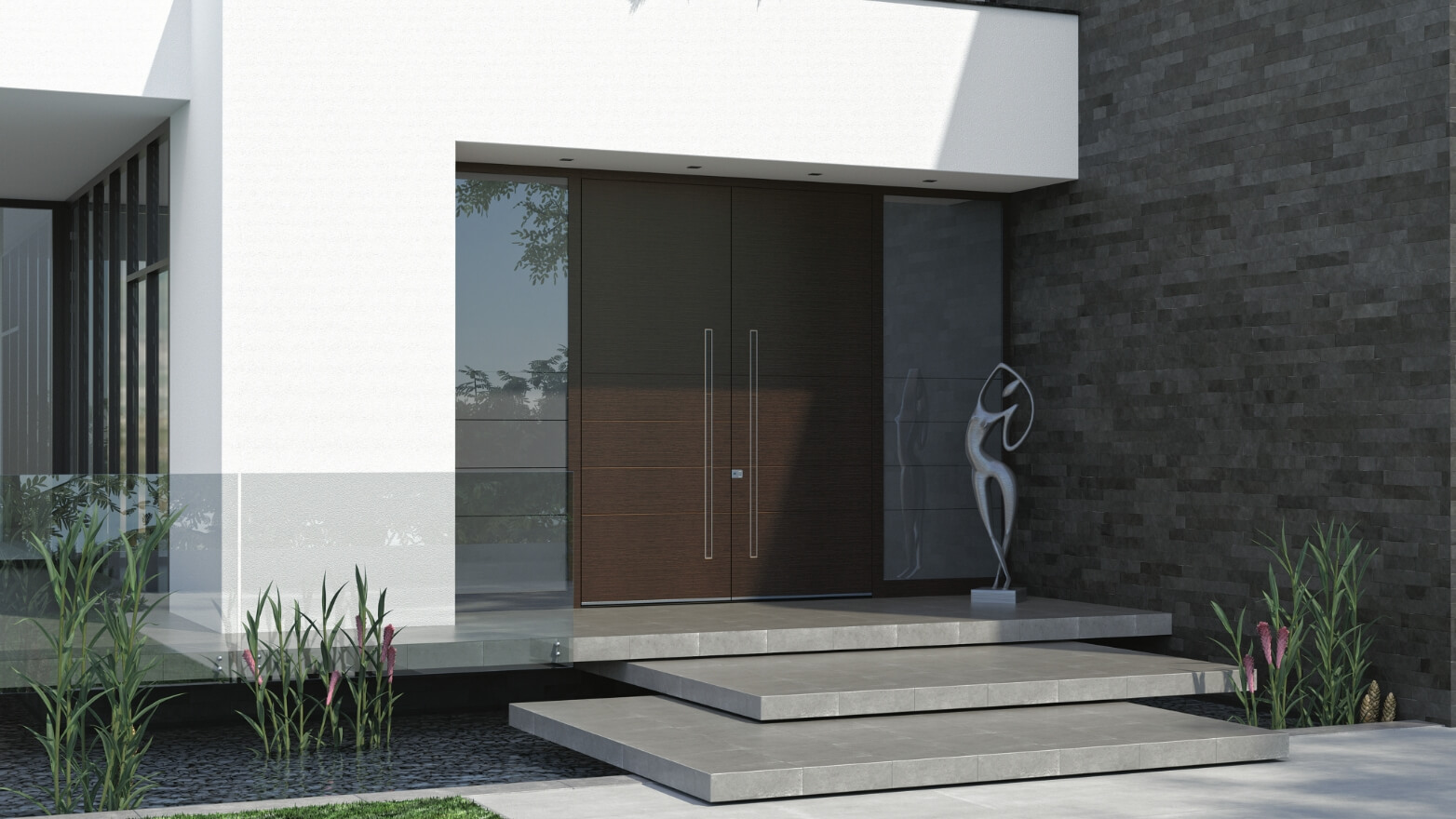 The benefits of a
wooden front door
A wooden front door offers a number of advantages over other variants. First of all, the material has an inherently high thermal insulation. And they can be used as part of low-energy concepts with excellent U-values. Remember to insulate the facade and windows accordingly.
Furthermore, the natural aesthetics of a front door made of wood is unrivalled. No other material offers the harmonious sophistication of irregular grain made of high-quality processed wood. When it comes to a modern design, this is precisely what you need; large flat surfaces that subtly show off the quality of the material.
A modern interpretation of the front door using a combination of materials
A modern interpretation of the front door using a combination of materials
Material combinations are not just about doors but the facade. This includes sections made of concrete or glass or the use of metals, such as stainless steel or even lightweight aluminium.
Using wood for the front door creates a charming contrast to "colder" materials like concrete or metal and provides a cosy element of warmth that welcomes you home every day.
Alternatives in design and material
A front door can be given a modern interpretation through design elements, for example, LED lighting in the frame or handles. Glass elements also work wonders and further modernise your front door. Alternatively, aluminium front doors. These can be finished with a high-quality wooden design. Pirnar has a wide range to choose from, popular species include larch and walnut.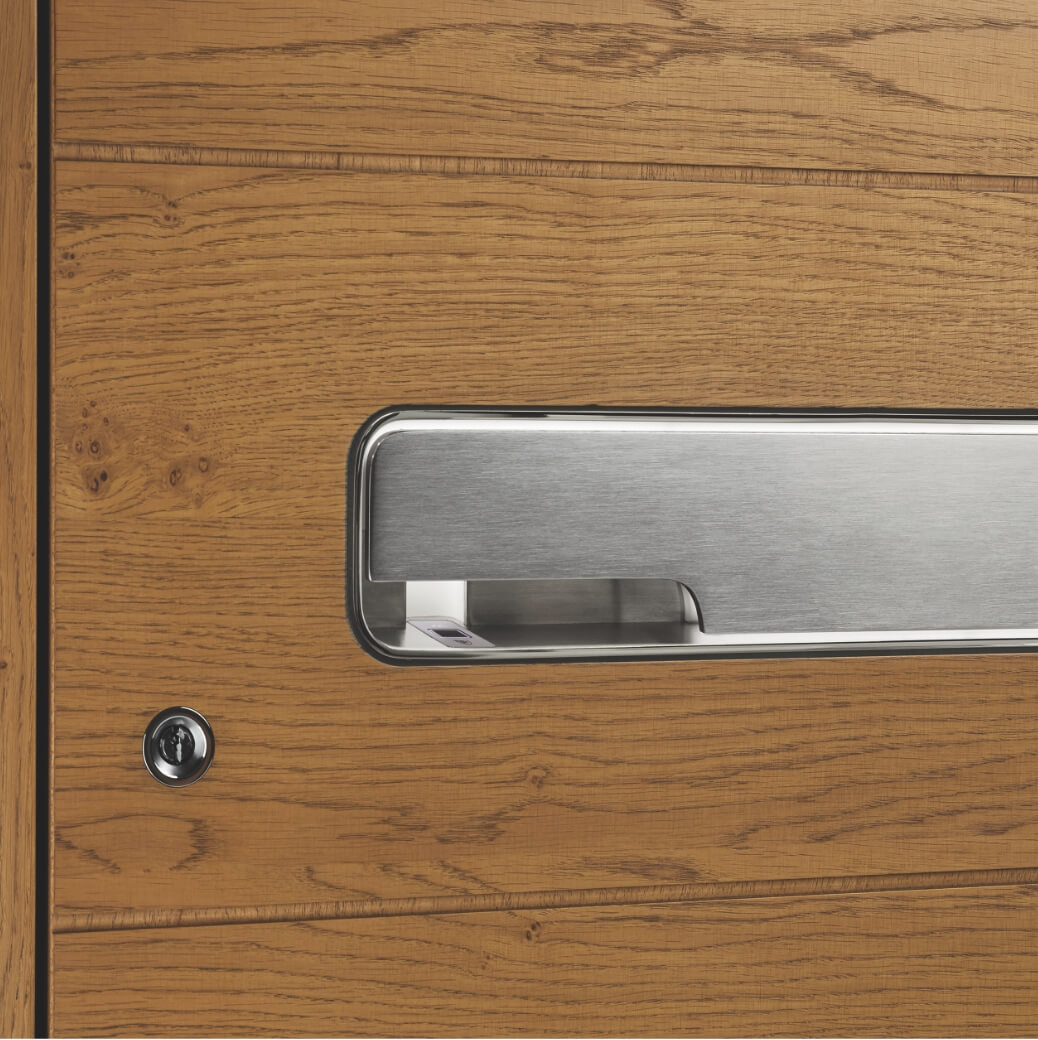 Which wood species are available at Pirnar?
Traditionally, only a couple of wood species are used for building doors. Precious species like teak are beautiful, but they aren't optimal for doors since half of the front door is located outside and exposed to strong temperature fluctuations. Especially during winter when there can be a difference of 30 degrees °C from outside to the heated interior. Exotic wood species are not suitable for these extreme conditions and should only be used indoors.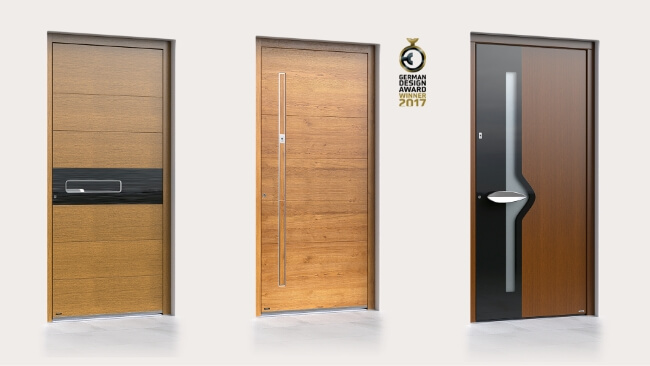 Picking your modern wood front door's colour scheme
A subtle glaze is an excellent choice for wooden entrance doors. This conserves the natural grain and at the same time impregnates the door against moisture and other influences like the sun. In terms of colour, you can choose anything between bright cerise to darker nuances like old oak.
There is also a wide colour range if you prefer an opaque finish. The paint is versatile and resistant to fading and scratches. If you are looking for good coverage, you might also consider using aluminium as the base material. It is highly functional and unrivalled in terms of stability and durability.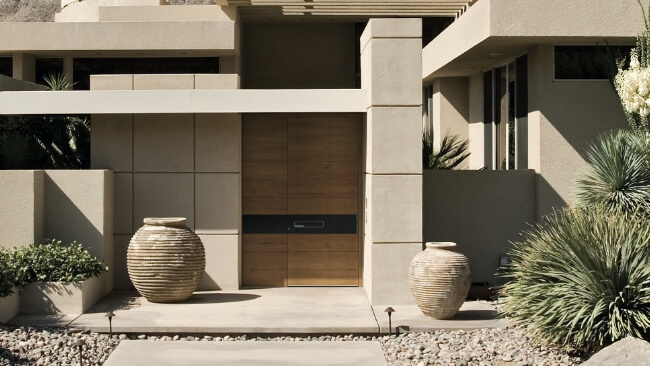 Classic or modern:
Pirnar lets you decide
Modern entrance doors create a well-balanced overall appearance for your facade. The style can be a modern classic with a purist design, or you can add a personal touch with individual accents. Regardless of which front door model you ultimately choose, Pirnar ensures that the highest standards of quality are met. Even our basic versions of the high-quality wooden entrance doors meet the highest demands in terms of functional factors such as thermal insulation, security and weather resistance. A protective glaze can also help to preserve the natural grain, adding a harmonious accent to your modern house.