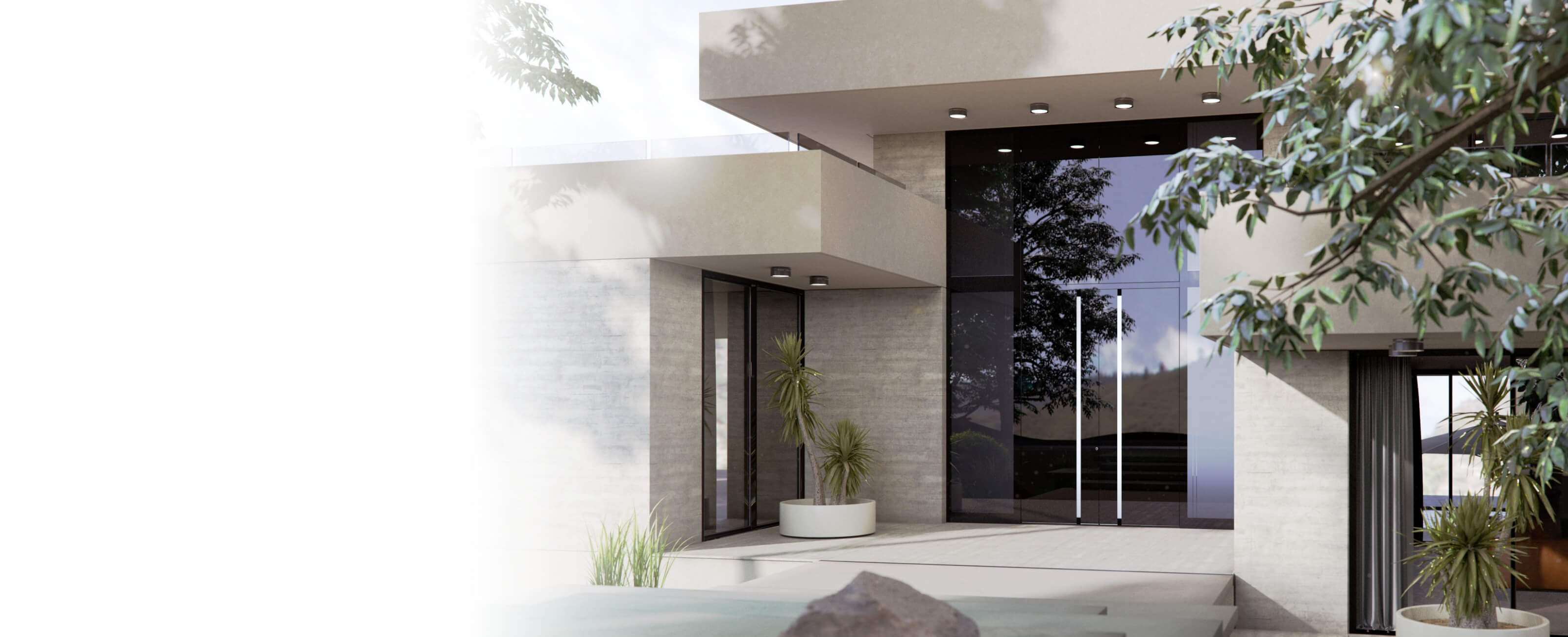 AWARD-WINNING MADE TO MEASURE DESIGN
Front Door Designs
The entrance to your home is one of the most important parts of your house and should be treated as such. It welcomes guests and family, offers a first impression and provides protection and security. We at Pirnar ensure that your new front door is designed to meet your unique expectations. Our various front door designs allow you to create a front door that is specifically tailored to your taste and fulfils all of your wishes.
How to choose the perfect front door?
Choosing a front door is a vital part when building or renovating a home. We offer various designs, styles and optional accessories that help you design your own high-quality entrance. When deciding on a front door, there are a few factors to consider, such as:
Security measures
Style and colour
Sidelight
Glass panels
Material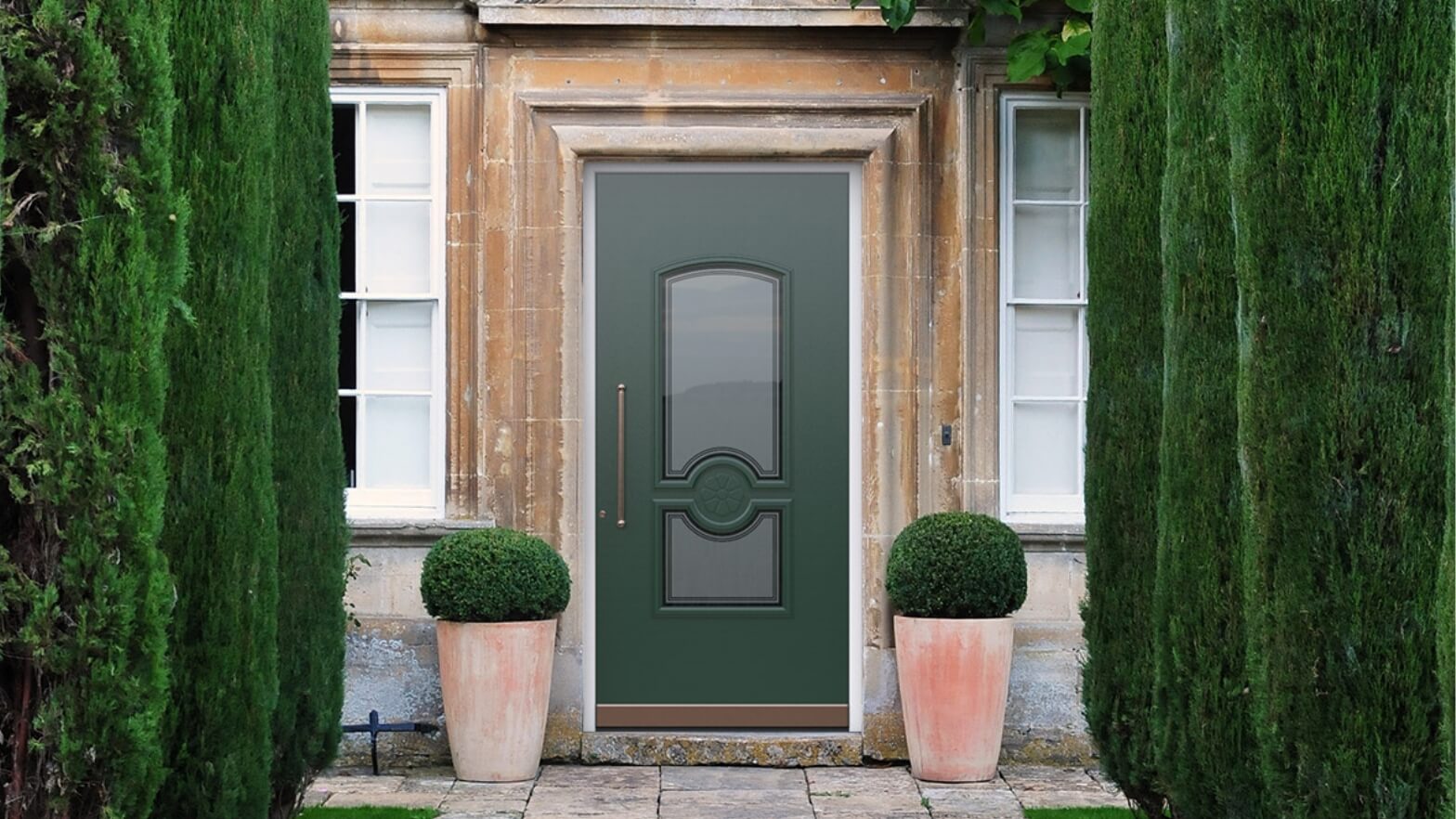 The possibilities
are endless
To create a fitting door, you need to have everything at hand to venture in any direction of your choosing. At Pirnar, we understand that your front door should be as unique as you are and have enabled our configurator to offer you many possible ways to design it.
Single or double entrance, wood or aluminium – the possibilities in our Pirnar configurator are endless.
Various style choices
The door panel and frame should match the house's overall style to fit in seamlessly. You may choose between a modern, contemporary front door or take a more traditional approach, depending on which suits you best.
Choosing a fitting style
A front door is your own unique way of welcoming guests to your house and should reflect your warm and comforting family home. Our Pirnar configurator helps you with choosing the perfect front door design that fits with the exterior and interior of the house. Our luxurious, hand-crafted doors will be a centrepiece of your family home and exhibit your taste for quality and design. Pirnar.co.uk offers a variety of customisation options to fulfil your vision of your new entrance.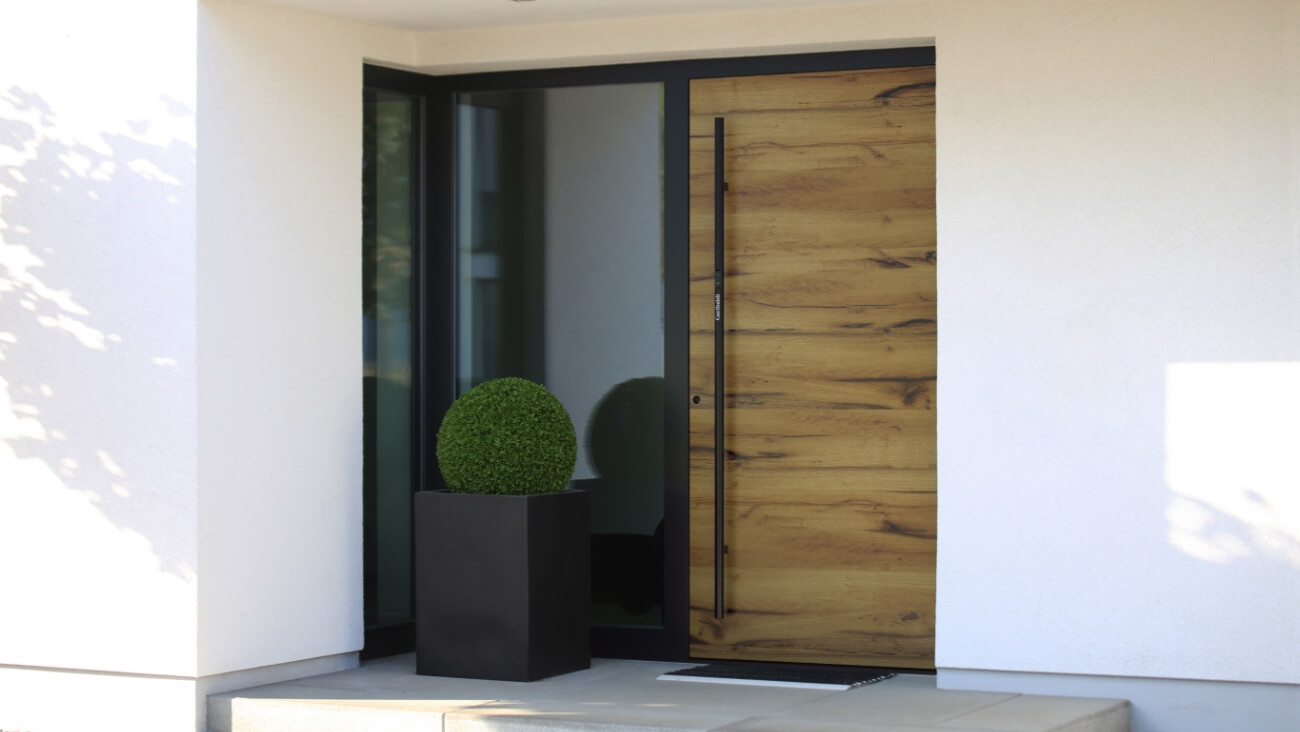 Door Styles
You may choose between a single front door or a double door with two leaves. If you opt for a more classic look, you may want to consider a traditional London door or decide on a cottage-style timber door. At Pirnar.co.uk, we also offer a variety of different aluminium door models that range from simple and elegant door panels to opulent French doors with exciting and exceptional design options. This allows you to consider the overall style of your home, as you can match your door´s look to your windows, architectural style and decoration.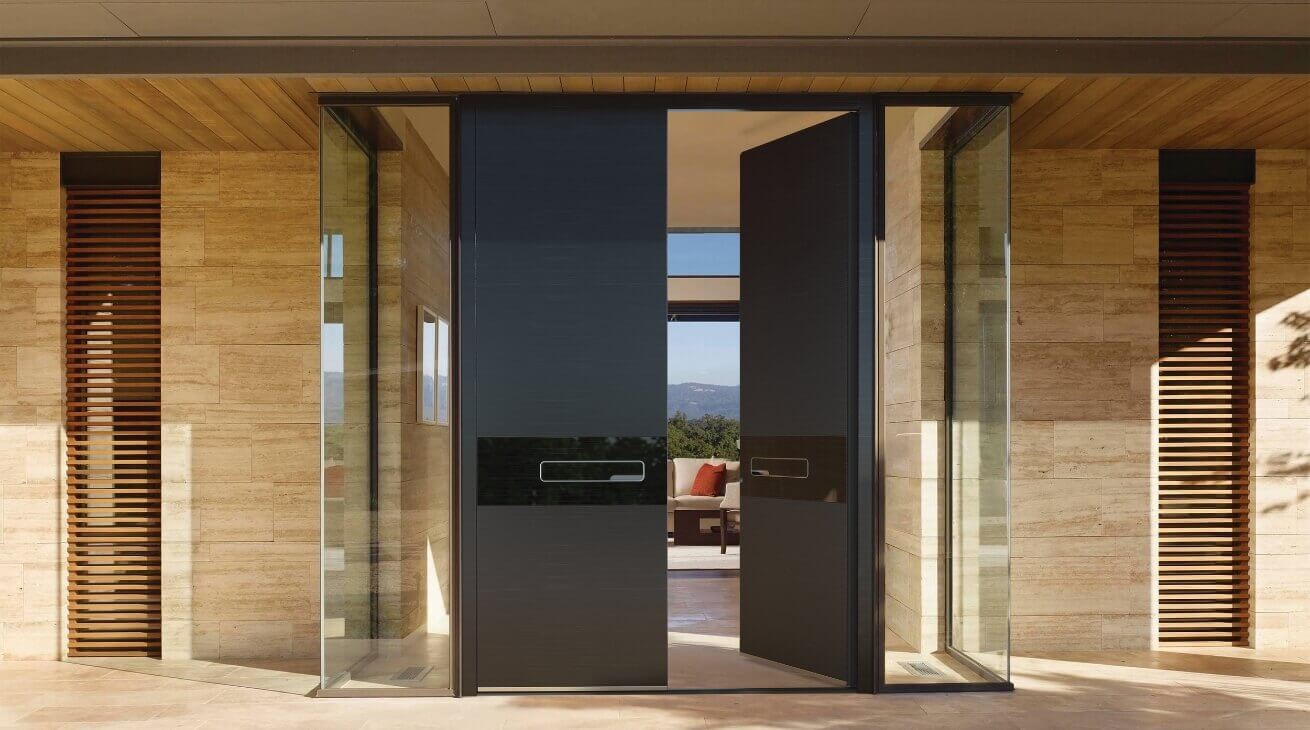 Multiple design options
With Pirnar, you have the option of varying front door designs for your internal and external front door. While the exterior of your home may fit well with a traditional wooden door, your modern interior architecture might interfere with this particular door style. With the help of our configurator, you can easily create a door that matches both. A modern entrance with wood on the exterior combined with a plain white internal door or any other design of your choosing may be a perfect solution to create a fitting front door.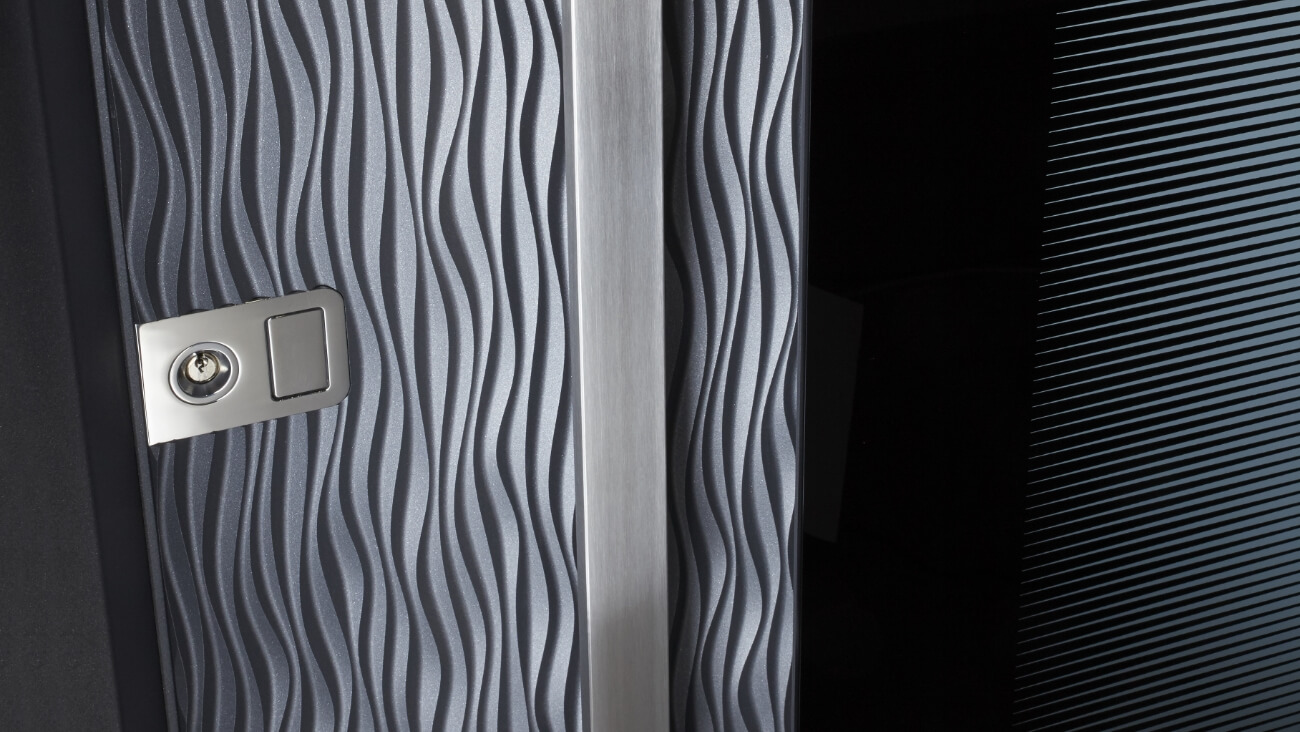 Hardware
Pirnar front doors offer a range of different customisation options for your door fittings. Do you fancy extravagant knockers and door handles? Multipoint locks and strengthened hinges for added security? How about ambient LED-lighting and fingerprint technology? There are no limitations with your front door from Pirnar.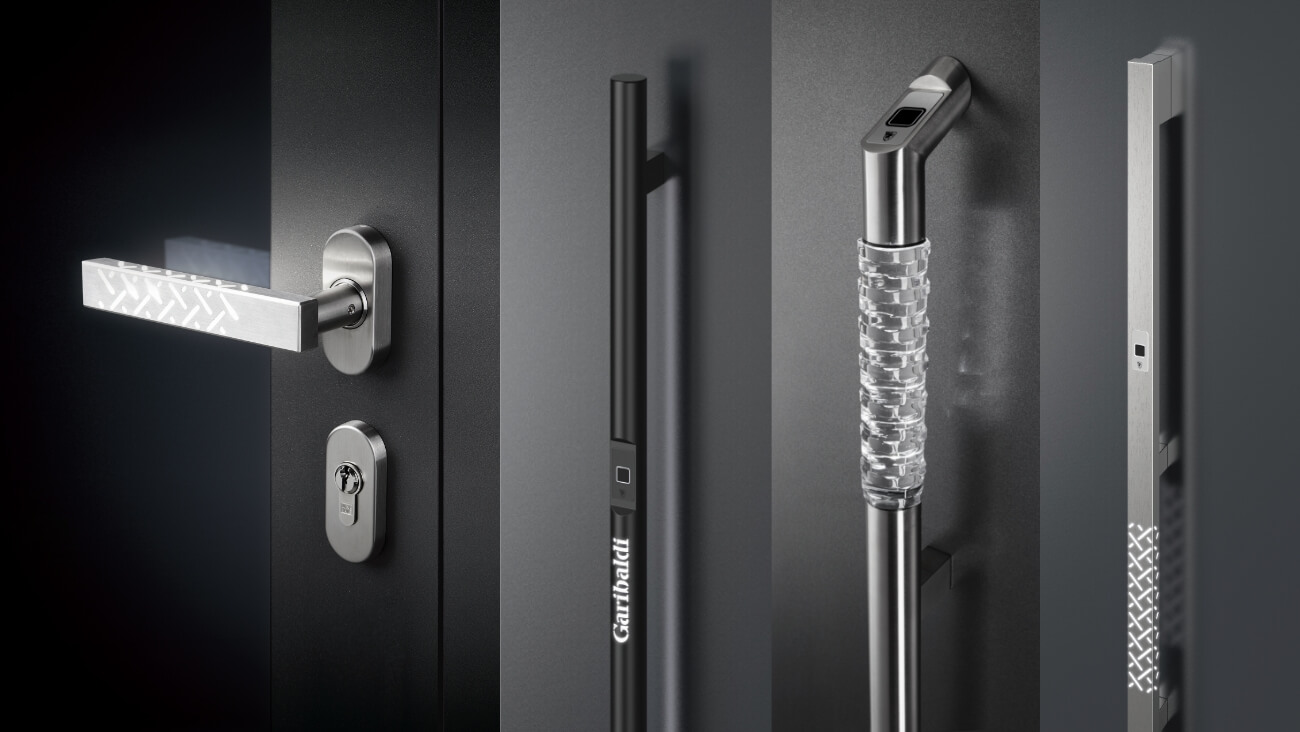 Which designs and styles do we offer?
Our designers work hard at providing you with a wide selection of front door designs and models. At Prinar.co.uk, you can decide between aluminium or wooden front doors when looking at door materials. There are no limitations, we can help you get the front door you´ve been dreaming of!
Numerous door designs
We offer an abundance of different front door designs, all of which are accessible through the configurator, including but not limited to:
Wooden decor
Veneer
Paint
Powder Coating
Real Wood
Do you fancy a more traditional front door that is rich in detail, or would you rather go with a solid, simple aluminium front door? We want to help you create a door specifically designed for and by you. Our extensive colour palette includes RAL colours as well as unique and realistic wooden decor that resembles wood species such as oak or olive. We also offer metallic options for a uniquely distinctive look.
As a customer, you have complete freedom of choice regarding the hardware of your new front door. Our exclusive range of designer fittings includes traditional door handles as well as contemporary pull handles made of high-quality stainless steel. Besides a modern design, you can choose from a wide range of features to make your new front door inimitably yours.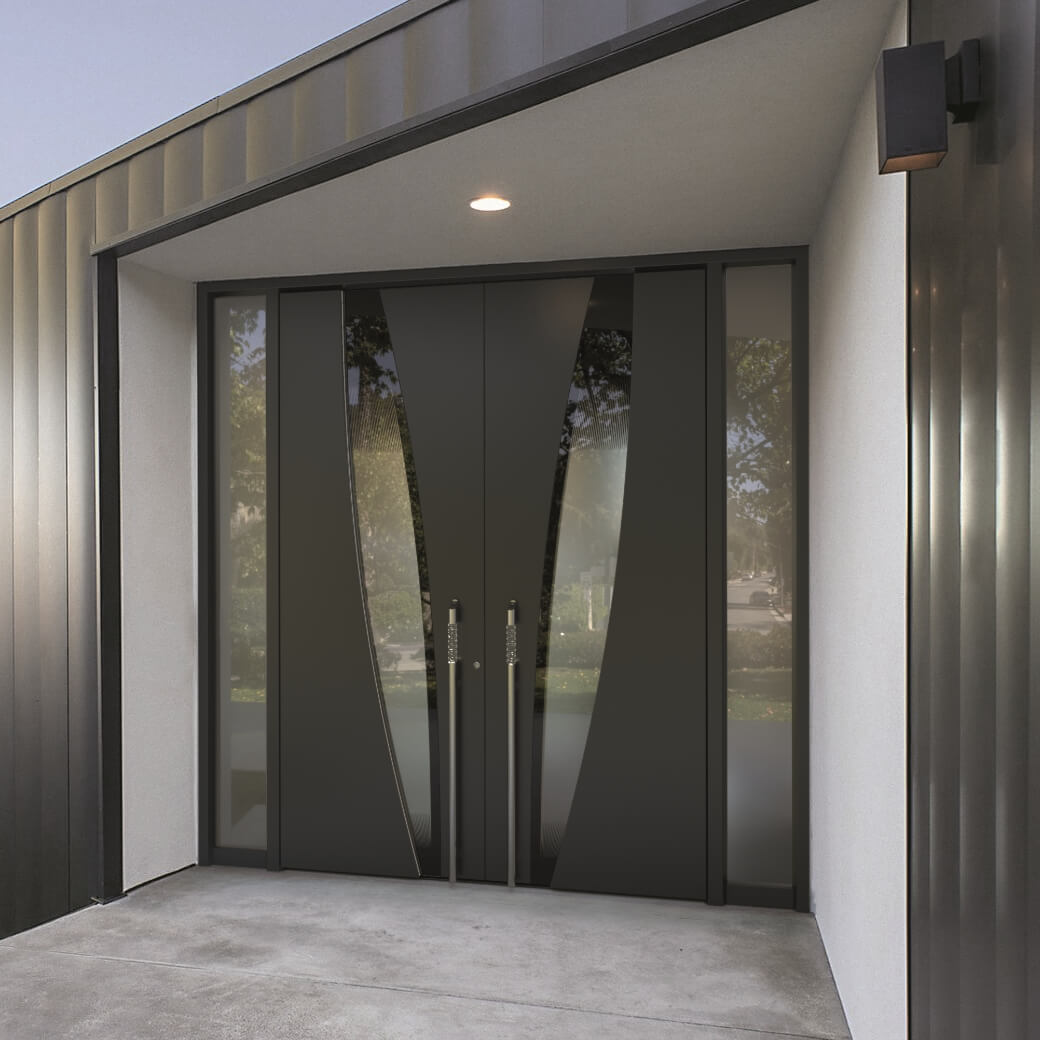 Tips for choosing the perfect front door design
Strong materials to build your door

Our luxurious front door designs are carefully selected to offer you the unmatched quality we expect for all our customers. Touch it, and you will feel the luscious surface treatment and see its vibrant, rich colours that spark joy anytime you walk past it.

Our contemporary aluminium front doors are renowned for their flawless construction, award-winning technology, and various front door designs. They are exceptionally well insulated, with some door models achieving U-values as low as 0.54 W/M²K. Paint and wooden decor are carefully powder-coated and manually refined to guarantee a perfect finish. With an aluminium front door, there are no constraints in relation to dimension, inserts and styles.

Glass Inserts

Glass is one of the most popular materials used when creating contemporary front doors. Glazed doors function as windows and thus allow sunlight to access the house's interior, creating a welcoming feeling. At Pirnar.co.uk, you can choose between fully or partially glazed doors, add only small glass details to your front door or decide on an intricate glazed side panel. Design the glass inserts to your liking and decide how much glass you desire for your front door. You may choose between the following varieties of glass:

Transparent
Satin
Patterned
Stained
Metallic coloured

To prevent the dissipation of heat, you have the option of triple or quadruple glazing, depending on the model of the door.

Front door designs for your dream door

We at Pirnar strive for perfection and customer satisfaction. With our configurator, you can choose paint, decor, hardware, glass inserts, and other additional equipment for your entrance door. Try it out, admire our award-winning front door designs and create your own hand-crafted, custom-made dream front door for your home.