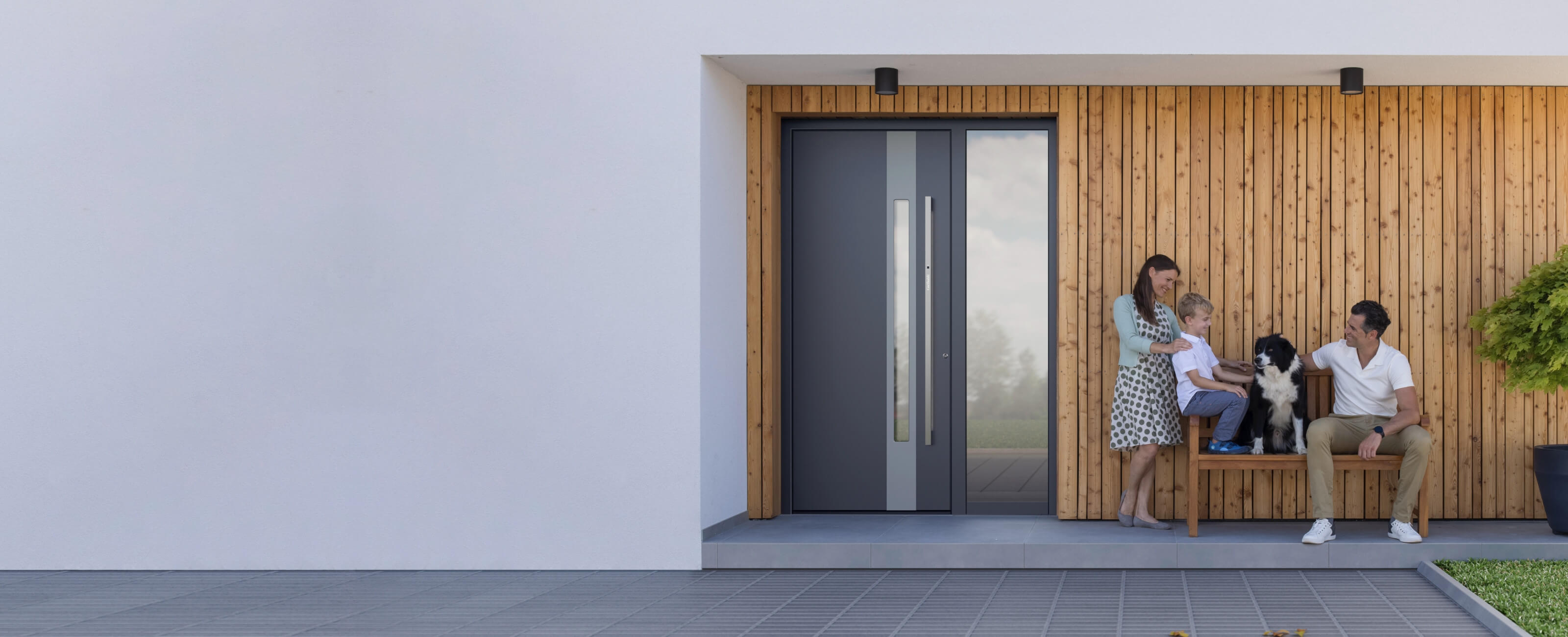 FIT FOR A PALACE
Buying front doors
Visitors to your home can learn a lot about you just by looking at your front door, from your aesthetic tastes to your lifestyle. Doors are more than just barricades between the inside and the outside. That's why Pirnar specialises in front doors for people who want a high-quality bespoke front door in line with their own lifestyle.
Pirnar: "Good" isn't good enough
A first impression is important – but when it comes to windows, doors and other parts of your home, the second, third and all following impressions count as well. If you're looking to buy a front door, you shouldn't concentrate entirely on looks but on functionality as well. This is choosing a door with great thermal insulation, security features, weather resistance, safety standards and noise protection.
"Extraordinary" is our motto, and this starts with award-winning designs and ends with security, comfort and high-level thermal insulation. Design and buy your unique bespoke front door and enjoy exquisite Pirnar quality.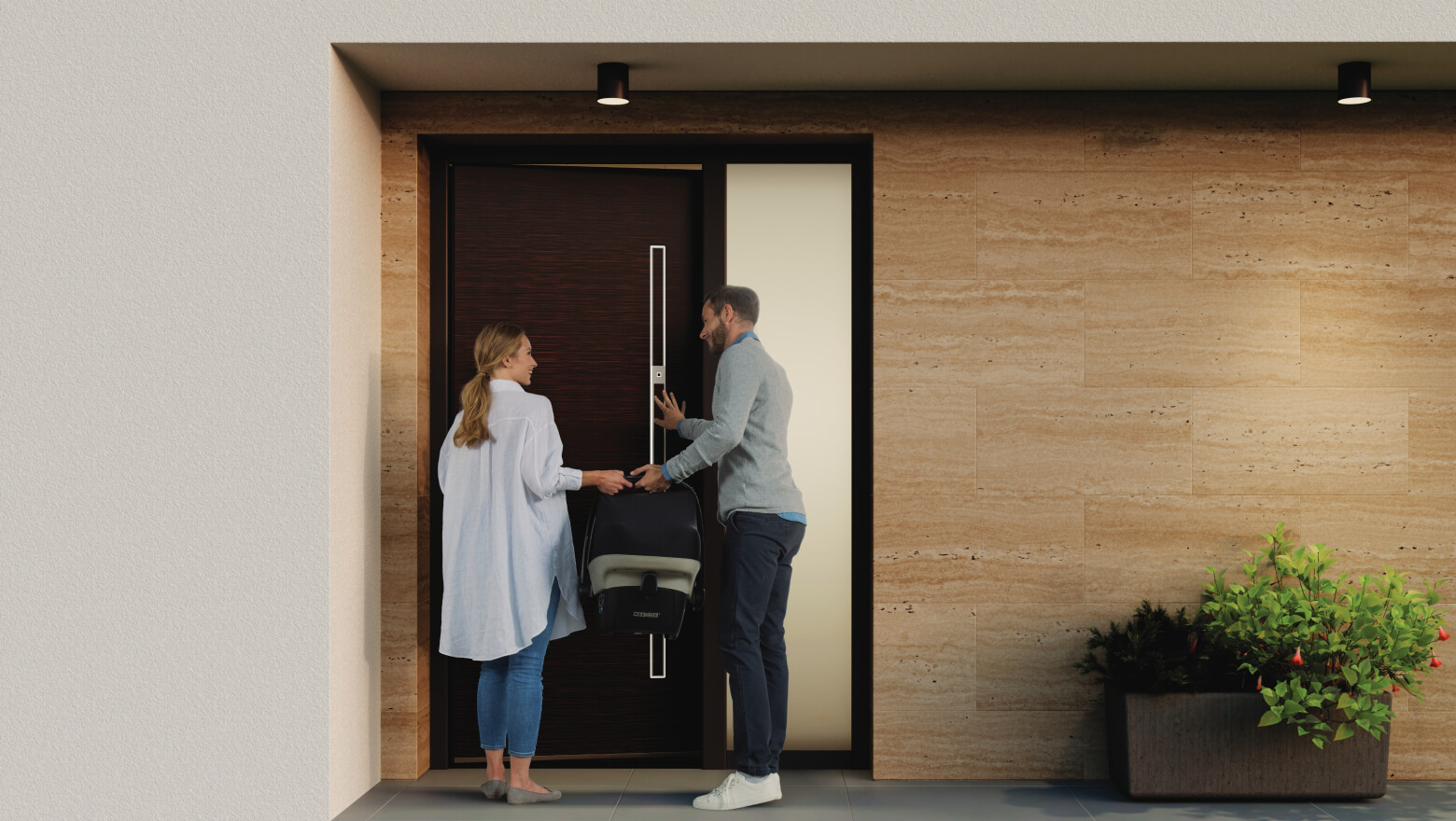 Exclusive wooden and aluminium front doors
Doors – including front doors, side doors as well as service and interior doors – are typically made of PVC, wood, or aluminium. The different materials have different prices points and different advantages and disadvantages. Pirnar focuses entirely on high-quality aluminium, wood, and combinations of the two, as these materials have the greatest advantages when it comes to door construction.
World-class wooden front doors
Natural wood has been a reliable basis for furniture, doors, and windows for centuries. When it comes to front doors, wood has always been popular, as it is highly robust, breathable and regulates moisture effectively. It also provides protection against noise and thermal diffusion, which makes it a great choice to protect your home against break-ins while providing everyday benefits.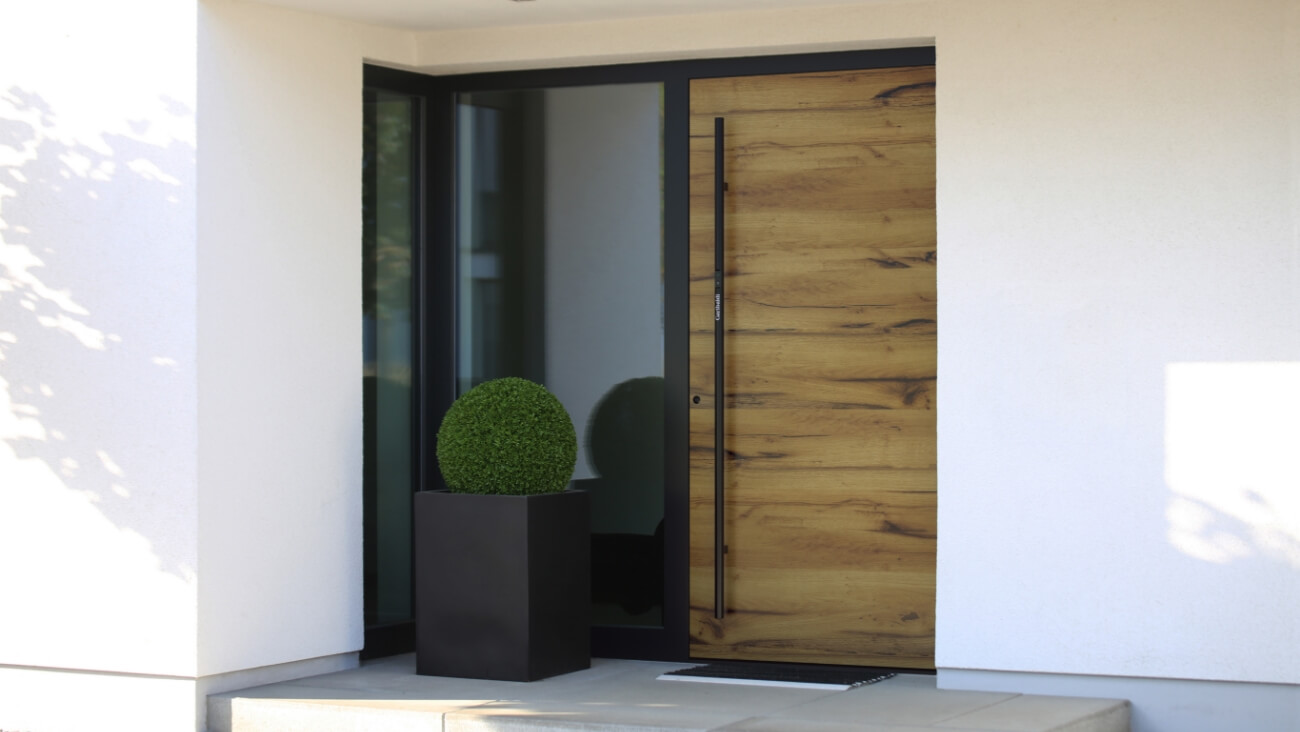 Aluminium front doors
Aluminium is clearly the best available material regarding weather protection, strength, and resilience. This modern material is nearly impervious, being naturally corrosion-resistant and easy to paint. Aluminium also allows front doors to be constructed particularly wide, and aluminium front doors are generally regarded to look more elegant than PVC doors.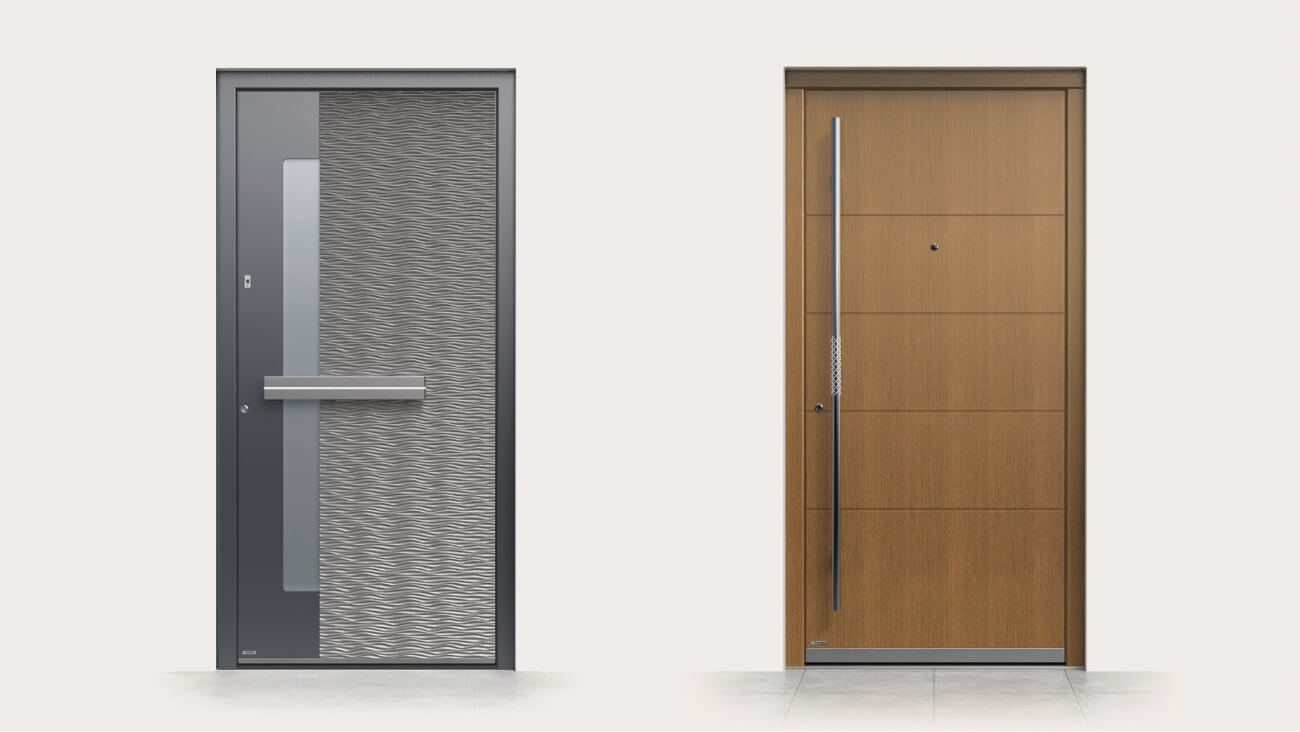 Wood-aluminium front doors – a strong combination
Yet another option for your front door is to combine wood and aluminium. If you're unsure which material to choose, Pirnar can combine both to take advantage of the beneficial attributes of both materials. These doors are typically made of a wooden core, combined with exterior aluminium profiles.
Wood-aluminium front doors are the perfect combination of both materials, providing you with near-unlimited options for individualisation.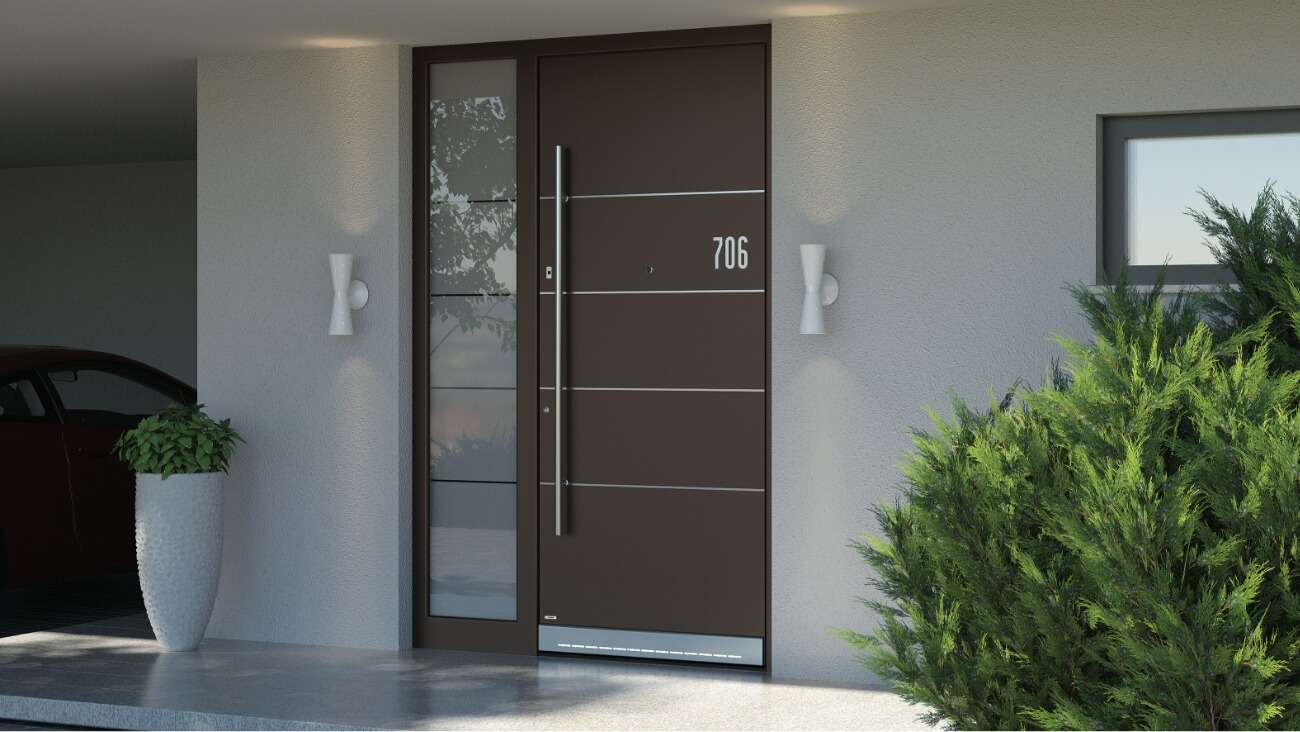 Configuration options
Pirnar will make your front door the highlight of your house. You can configure a wide range of different doors according to your wishes, applying sidelights, transom lights, fingerprint security systems, patterned safety glass or even illuminated crystal handles. You can choose from all available options, from materials to high-tech accessories, enjoying a bespoke front door at a fair price.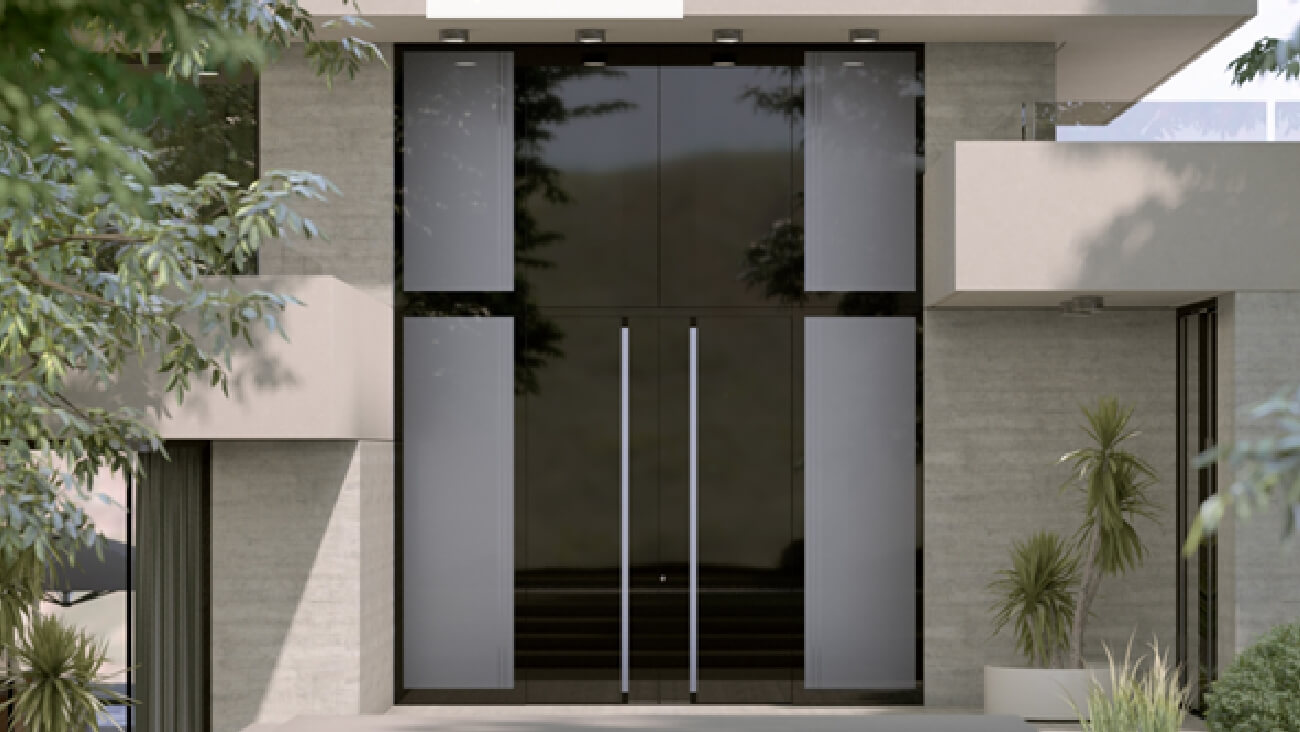 Colours, textures and visual highlights
You'd like to buy a bespoke front door for your home from one of our partners? Is high quality important to you? Then Pirnar can offer you award-winning designs and great colour choices, door handles and glazing elements.
RAL colours and other options
You can choose from various RAL colours, decors, glazing types, handles, security elements and much more to get to your bespoke front door. All our front doors can be fitted with metal, stainless steel or aluminium furnishings and various types of glazing elements. Door handles are available in dozens of variants, from bar handles with illuminated crystal inserts to cleverly concealed security handles with fingerprint ID capabilities.
The aspect of visual design
Another aspect of your front door is the visual design of the door leaf and side panels and transom lights if you choose to include them. These are situated above or next to the door, and they typically let a lot of natural light into your home.
A large choice of glass designs to choose from
Glazing elements also make your front door look more open and inviting. Various glass designs are available, from curved, straight, or classic - to extravagant, wide or narrow glazing elements. You may also decide to go with transparent glass, frosted glass, structured glass, noise protection glass, security, or safety glass, emphasising whichever attribute is most important to you.
As one of the leading European manufacturers, Pirnar pays close attention to innovative construction methods and concepts that can satisfy even the most unusual customer request.
Tips for buying the perfect front door
Different designs depending on the material of the front door

Aluminium front doors – a real all-rounder
Choosing from among our selection of aluminium front doors, you can apply a great variety of colours and patterns to your dream door. Perhaps you prefer classic white or anthracite grey, or maybe you'd rather a red, blue or other colours and decors to make your door look truly unique. You can even use multiple colours on the same door.

Your unique wooden front door
Lacquers or glazings protect your wooden front door from the elements, but they can also be used to highlight the natural wood grain or paint the entire door in a specific colour such as white, green, anthracite grey, light grey, or many others.

Various designs for aluminium-wood front doors
With wood-aluminium front doors, you get not only a great ambience, but you can also apply various types of wood, lacquers, glazings, and colours to the wooden interior profile. In contrast, the aluminium exterior profile can feature a variety of stainless steel furnishings and various colours. Whether you're looking to buy a country-style door with ornamented glass, a door with a clear glass insert and a black casement or a futuristic-looking aluminium front door, you're sure to get a door that excels in terms of innovative construction, reliable security and thermal insulation.

Is Aluminium a good material to choose for your front door?

The main disadvantage of aluminium is that some people don't like the look of the material. While some feel that the metal looks very elegant, some consider it to be cold and not very warm. And in fact, aluminium doesn't provide quite the same level of thermal insulation as PVC or wood, a slight disadvantage when it comes to insulating your home against thermal diffusion.

However, both of these disadvantages (looks and thermal insulation) can be easily remedied. For example, all Pirnar aluminium front doors are made with full-surface leaf profiles. These profiles include numerous interior air pockets, which lower the U-value drastically. Meanwhile, the metallic surface of an aluminium door can be changed into whatever look you want by using the various colours or wood decors available at Pirnar.

Prepare for the future – buy modern front doors from Pirnar

Our front doors aren't just extremely secure, they're also extremely durable. Meanwhile, their low U-values make them highly resistant to thermal diffusion. To further individualise your door and maximise its usefulness in your home, you can also choose:

whether the door should be opened to the left or the right
security features such as security hinges, electronic locking mechanisms and fingerprint scanners
ambient lighting

Illuminated front doors can lower the risk of break-ins by denying would-be thieves the cover of night. Meanwhile, electronic security features ensure that only you and your family can enter the house easily.